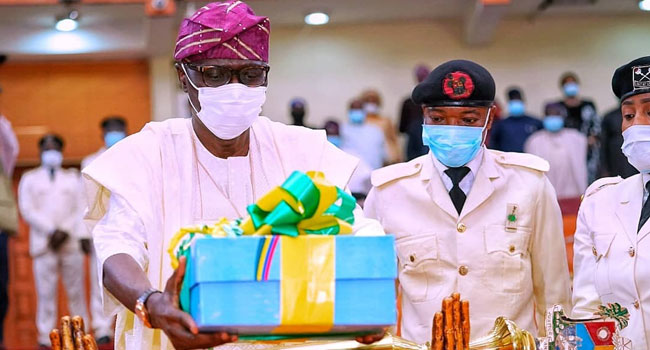 Lagos State Governor, Babajide Sanwo-Olu, has presented an estimated N1.155 trillion budget proposal for the year 2021 to the state House of Assembly for consideration and approval.
He themed the document "Budget of Rekindled Hope."
The 2021 budget is N234.5 billion higher than the 2020 budget which was reviewed downward to N920.5 billion due to challenges of COVID-19 pandemic.
However, it is less that the 2020 pre- Coronavirus budget which was N1.68 trillion.
Presenting the budget on Tuesday, Gov. Sanwo-Olu, noted that the 2021 budget has a total revenue of N962.528 billion and a total Internally Generated Revenue, IGR, of N795,744 billion.
He explained that the budget has a Capital Expenditure of 703.272 billion and a Recurrent Expenditure of N451.750 billion.
According to him, the budget would focus on youth employment, security, youth engagement and social work, among others.
On youth empowerment, the governor, whose state is still reeling from the violence and destruction caused by hoodlums who hijacked the recent #EndSARS protests in the state, noted that it has become expedient to leverage the state's developmental efforts by focusing on sectors with job creating potential like Agriculture, Construction, Technology and Security.
He said: "We are set to improve the economic conditions and social safety needed for our youth and all hardworking Lagosians to flourish. We are committing resources to sectors that need to grow for our people to become self-reliant and economically empowered.
"Consequently, for the agricultural sector, our food security plan has a cumulative budget of N22.21 billion while we are committing a cumulative budgetary provision of N311.43 billion to infrastructure: this will cover direct intervention through the Ministries of Works and Infrastructure, Water front, Transportation, the Judiciary, our Schools and Seed Capital of N15 billion for The Rebuild Lagos Trust Fund.
"This does not include the value to be created from executing the rail lines (both Red and Blue) recently approved by the Lagos State House of Assembly. To continue to drive our digitisation strategy, we have committed a total of N37.37 billion investment in technology, while in the environment and health services we have committed a total of N48.28 billion and N111.94 billion respectively.
"In line with our urgent need to light up Lagos we will begin a set of initiatives in the energy sector to ensure the Lagos economy is supported by powering one community at a time. To this we have committed a total of N32.58billion in the 2021 budget."
Sanwo-Olu further noted an important focus of the 2021 budget would be the promotion of an entrepreneurial culture among the people.
READ ALSO: What UN Is Doing About #EndSARS Protest – Deputy Secretary-General
"In light of this, micro, small and medium enterprises will be strengthened because their activities help to facilitate socio-economic advancement. We have done a lot to support the entrepreneurs in Lagos state through the LSETF and we will do more by providing technical and financial support so that they can in turn generate employment that will stimulate equitable economic prosperity.
"We understand that we must consolidate our gains in the technology sector for accelerated economic growth and job creation. In order to achieve this, we will collaborate with major players in that space like Oracle, Microsoft and Google to prepare our youths for the IT job market. As we focus on job and wealth creation, we will also prioritize the security of lives and property as well as local intelligence gathering in our communities by increasing significantly the number of our Neighbourhood Watch Officers over the next two years.
"All these will be achieved through our human development MDAs comprising the Ministries of Education, Women Affairs and Poverty Alleviation, Wealth Creation, (including LSETF) and SDGI. Consequently, the cumulative budgetary provision towards Human capital development effort from these MDAs total's N148.57billion."
On youth engagement and social works, Sanwo-Olu said the possibilities for economic and social growth abounded in the state, adding, "we must be emphatic about engaging our youth. As a father, politician, and governor, I am saddened by the increasing rise of substance abuse among our youth, particularly the boys. Our developmental vision would be incomplete without a vibrant, capable, and healthy youth population to take the baton of leadership when we leave the scene."