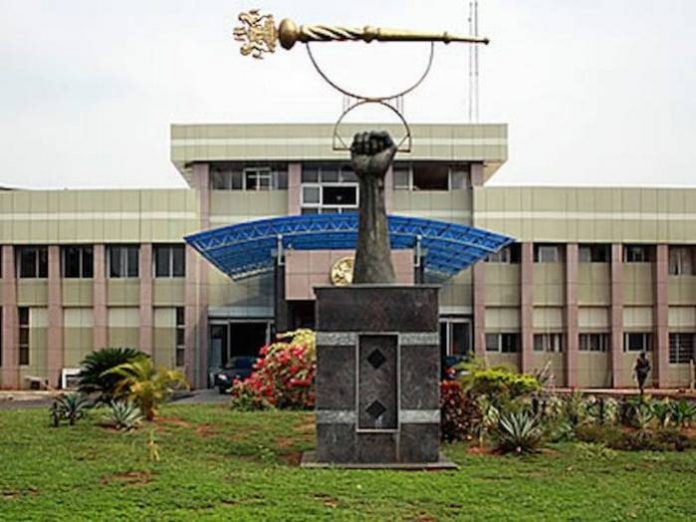 Enugu State House of Assembly football team on Sunday defeated the State Commissioners team by 6-0 in the first match of the ongoing Enugu State Governor's sponsored competition, tagged "2020 Gburugburu Unity Cup."
The competition involved the three arms of government along with Local Government Chairmen (LGC).
Iloabuchi Aniagu, representing Nkanu West Constituency, opened scoring in the 12th minute of the match to put the legislators ahead.
The Deputy Speaker of the House, Uche Ugwu, made it two in the 47th minute as Aniagu hit a brace at the 50th minute to leave scores at 3-0.
Chukwu Obasi, representing Awgu South Constituency, scored in the 52nd minute to make it 4-0.
The speaker scored his brace in the 68th minute, bringing scores to 5-0.
James Akadu, representing Igboetiti Constituency, brought the scoring spree to 6-0 at the blast of the final whistle.
Speaking at the end of the encounter, the Commissioner for Youths and Sports, Manfred Nzekwe, described the match as interesting.
Nzekwe said the competition would help government officials to keep fit.
He, however, said that the loss by his side was not the end of the road for them, pointing out that they would remedy the situation in their next matches.
"We have Permanent Secretaries, LGC and the Judiciary to play.
READ ALSO: Abducted students to be rescued soon, says Defence Minister
"As for me, we still have a chance to reach the final, may be face this team and by then, avenge the defeat.
"This is Governor's Unity Cup and as it is happening here, it is also happening in all the local government areas," Nzekwe said.
He said that winners of the competition would go home with N1 million.
The Speaker, Edward Ubosi, described the competition as a way of "tightening the unity among the government functionaries."
Ubosi said the only team expected to give the lawmakers sleepless night would be the LGC team.
"When we get to that river, I am sure that we are going to cross over. But for sure, it is only that team that can stand between us and the cup.
"I expected the outcome of the match because I know that the Executive arm cannot withstand our fireworks," he said. (NAN)