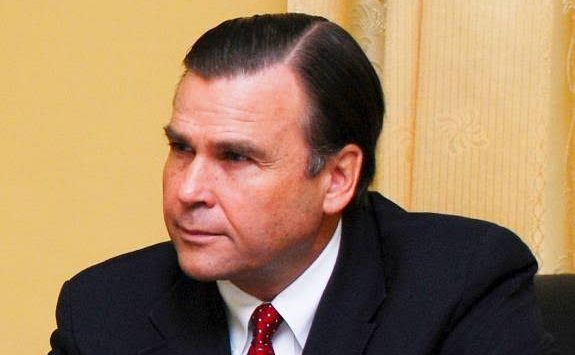 The United States of America's, USA, Ambassador to Nigeria, Mr. Stuart Symington on Thursday visited Benue State where he interfaced with the governorship candidates of the All Progressive Congress, APC, and the Peoples Democratic Party, PDP, Emmanuel Jime, and Gov. Samuel Ortom respectively.
At separate meetings with the two major governorship candidates, Symington called for peaceful, free and fair general elections in the state.
He implored all candidates vying for various elective positions to match the peace pact they signed with action to ensure a violent-free general election.
The U.S Ambassador to Nigeria advised the candidates to carry out issue based campaigns rather than hate speeches and to also educate their followers on the need to ensure peace during the elections.
noted that the United States expects the elections to be credible like the 2015 elections which he said gave Nigeria the voice to talk about peaceful elections to the rest of the world.
He also called on the electorates, particularly the youths not to allow themselves to be used by any politician to subvert the peaceful, free and fair conduct of the general elections.
READ ALSO: Court orders arrest of former NIA DG, Ayo Oke, wife
Meanwhile, Gov. Samuel Ortom, and the APC governorship candidate, Emmanuel Jime in their separate remarks reiterated their commitment to the peace pact and promised to abide by its provisions.
The APC governorship candidate, Jime particularly, described the concerns of the United States as timely.
"The discussions were very fruitful. I think they were very timely as well. For me this is a very clear demonstration that the International community has taken notice of the democratic experience and experiment of democracy in our country.
"For me it is a timely and welcoming visit for which I'm very grateful. We all need all hands to be on deck in other for Nigeria to be able to deliver on this democracy," Jime said.
Jime further reiterated that his aim for vying for office of the governor is to usher in a new era of peace and prosperity for Benue state and called on his supporters to work as hard to enable the party deliver its candidates.