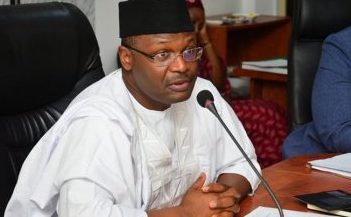 The Chairman of the Independent National Electoral Commission, INEC, Professor Mahmood Yakubu, has said that delay in the passage of the budget of the 2019 election would not lead to a postponement.
Yakubu said the Electoral Act did not give room for the postponement of elections.
The INEC boss made this assertion while speaking with journalists at the Presidential Villa, Abuja.
His words:  "I have said this over and over again; there are no conditions under which elections should be postponed, under section 26 of the Electoral Act.
"The date is formed and fixed, February 16, 2019; we issued the timetable way in advance; for the very first time in the history of our nation, citizens of Nigeria know when elections will take place one year in advance. It has never happened before.
"Secondly, for the very first time in the history of our country, citizens know the budget of the electoral commission; citizens know line by line how much the commission proposed; what the money is going to be spent on.
"I think I am very happy with this process.''
He expressed optimism that the virement before the National Assembly would be approved, saying that he had made the necessary clarifications needed.
According to him, the National Assembly was pleased with his explanation and he believed that he would soon hear from the legislators.
READ ALSO: Amnesty International: New boss promises to tackle issues in Africa
He also spoke on the extension for the voters registration.
"As at Saturday last week, August 11, we have registered 12.1 million citizens; this will eventually be added to the 70 million voters that are already registered for the 2019 general elections.
 "We have voters register of over 80 million citizens.
"Let me make this very important clarification; the registration is going to take place between 9 a.m. in the morning and 5 p.m. daily including weekends but excluding the public holiday. You know Tuesday and Wednesday next week have been declared public holiday.
 "The second important clarification that I should make is that the end of the continuous voters' registration is August 31 but that does not mean the end of the collection of Permanent Voter Cards (PVCs).
"Collection of PVCs will continue until at least one week to the general election in February 2019,'' he said.