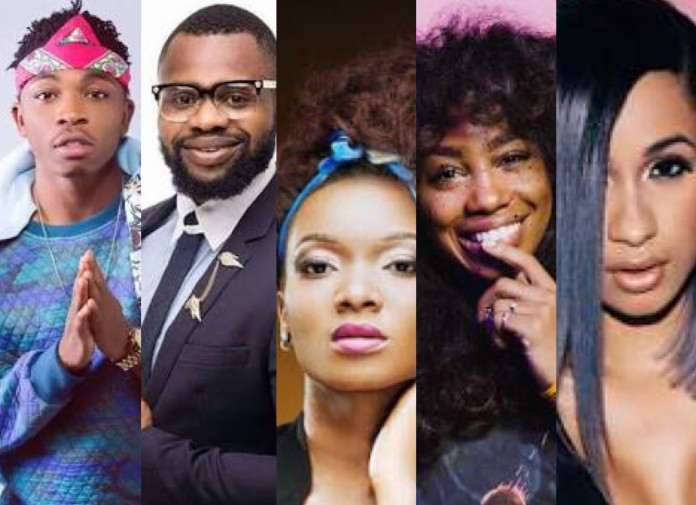 In all professions, there are always new comers to the scene or people who may be seen as underdogs.
According to Wikipedia, an underdog is a person or group in a competition, usually in sports and creative works, who is popularly expected to lose. In almost all works of life, we tend to immediately peg the underdog.
Here's a look at some of the people in creative arts who were seen as underdogs, but won big in 2017 both home and abroad.
MAYORKUN of DMW (Davido's Record Label)
He was discovered on social media in late January 2016 when he shared a song he covered and Davido saw it February 1 and sent him a private message. He signed him on his label and he went on to win 'City People Music Award' for most promising artist in 2016 as well as Headies 'Rookie of the Year'. His first song on the label,Eleko, was a hit but Nigerians postulated that the YouTube views that he amassed were bought. 2017 brought 'Mama' one of the hit songs this year. He recently released 'Che che' which is currently making waves. Within a year, he emerged as a force to reckon with in the entertainment industry, thus shedding off the toga of an underdog.
SZA of RCA Records
She has been in the music game for a while but never gained any recognition. Her style as well as her genre of music was a great source of concern. Fast forward to April when she got signed onto a major music label, and started performing on top notch shows, In June, she released her debut album, Ctrl, to universal acclaim, and shortly announced her first headlining tour in July and began touring in August. She has collaborated with Maroon 5,Travis Scott and others. How is she ending the year? As the most nominated woman at the Grammys! Including one nomination for the coveted 'Best New Artist' spot as well As 'Best Urban Contemporary Album'. This year has witnessed her tremendous growth in the industry.
KEMEN of Big Brother
After his unceremonial dismissal from the Big Brother Naija house, lot of Nigerians expected him to fade into the background. That's not what happened. If social media is to be believed the opposite was the case. He went on to organize a run that boasted of a large following, host some shows and generally turned a bad story into a great ending. He definitely won 2017. It will be interesting to see what he does in 2018.
CARDI B
Where does one begin with Cardi B? From leaving the Love and Hip Hop franchise, a paying job to the uncertainty of the music industry to having one of the most talked about song of the year! Bodak Yellow broke charts and she became the first female rapper to hit billboard no 1 without a feature! She has had the collaborations with huge names this year too and even got engaged as well. All this without an album, just singles. A prayer meme even circulated on the internet with people praying that 2018 should be good to them as 2017 was to Cardi B! If she drops an album next year, surely she will only further cement her name as a bonafide artist. Did we mention she came from a stripper background? Yes, she killed it this year!
WOFAI FADA
She has done it all this year! From her show 'Flatmates' on Dstv , modeling, hosting shows, etc. The hustle paid off for her this year. From just making funny Instagram videos to ending the year with actor, model, host in her portfolio, Wofai Fada made 2017 her year! The Nigerian internet is keen to see what she churns out next year.