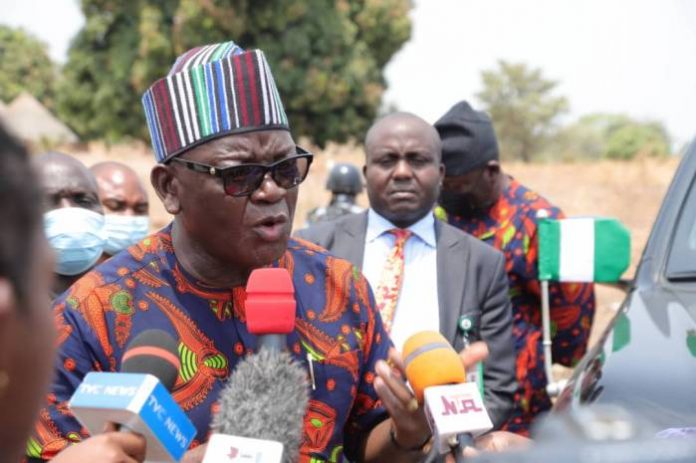 In order to ensure sustainable peace among the Bonta and Ukpute communities living at the border areas of Konshisha and Oju Local Government Areas of Benue State, State Government has urged youths to arise and fish out the criminal elements amongst them.
Governor Samuel Ortom stated this when he convened a Benue State Security Council meeting in government House, on Thursday to further chart a way for peace in the border communities.
The meeting was attended by members of the Benue State Security Council Chaired by Deputy Governor, Benson Abounu, with His Royal Majesty Tor Tiv represented by Tor Lobi, HRH Sir Moses Anagende, His Royal Majesty Och'Idoma represented by Ad'Enone, HRH Engr. George Aboh Ede, Konshisha Local Government Council Chairman, Oju Local Government Council Chairman, Tor Jechira, Adirahu Ny'Igede, Ter Ikyor, Ad'Oju, the Third Class Chiefs, other Traditional Rulers and stakeholders of (Bonta community) Konshisha and (Ukpute community) Oju Local Government Areas.
After painstaking deliberations, the meeting totally condemned criminality among youths of both communities and agreed that there should be immediate cessation of hostilities between the two communities to pave way for the peaceful demarcation of the borders of the Two communities.
READ ALSO: Benue Killings: Thousands Displaced in Katsina Ala As Only Animals Roam Communities
The meeting therefore called for sensitisation of the youths of Bonta, Ukpute and Ocholo communities with a view to encouraging peace and harmony between them.
It also stressed the urgent need for the youth associations to meet, discuss peace, feast together and sign an agreement that there should never be any breach of peace between the affected
communities.
They also directed urgent demarcation of the borders between Bonta and Ukpute communities of Konshisha and Oju Local Government areas respectively.
"That the access road from Konshisha — Oju should be opened and remain accessible and safe to all and sundry.
"That there is need to establish a Police post within the area to serve both Bonta and Ukpute communities.
The meeting also urged the Traditional Rulers to sit up and take full charge of their domains.
"That faith-based organisations should encourage the communities on the need for peaceful coexistence."
The Community was signed by James Jirgba, Chairman of Konshisha L.G.C, Innocent Onaa Chairman of Oju L.G.C, HRH Sir C. Uganden, Tor Jechira, HRH Ero Oga Adirahu Ny Igede, HRH Emmanuel Akpoghol, Mue-Ter Gaav representing Ter Ikyor, HRH Kosoko Ulegede Ad'Oju, Zaki Vincent Vihishima,Ag District Head of Mbagusa/Mbatseer Konshisha LGATC
Others include Chief Ajah Ebeh Sunday, District Head of Ukpa/Aniuette, Mr. Akaakegh Titus, Youth Leader, Bonta Community, Mr. Ijwo Obu Peter, Youth Leader Ukpute Community and the Deputy Governor, Benson Abounu.