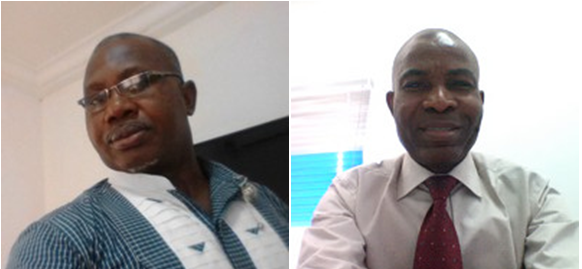 Charles Taylor and his rebels murdered the Nigerian duo of Tayo Awotunsin and Krees Imodibie in Monrovia. Adebanji Suara Ola was there before them, he left in one piece just like he did after his flight crashed in Algeria five years later in 1994.
Awotunsin was sent by Champion Newspapers to monitor the situation in Liberia
as dictator Samuel Doe faced deadly opposition. Imodibie represented the Guardian. That was in 1990. They never came back.
In Champion newsroom, Ilasamaja, Lagos, Banji's desk was not far from Awotunsin's. In 1989, Iwuanyanwu Nationale eliminated Mighty Barrolle of Liberia 4-1 aggregate in the first round of what later became the CAF Champions League.
Banji was in Monrovia to cover the return leg which ended goalless at the Samuel Kanyon Doe ( SKD) Complex, Paynesville. He also made friends with journalist, Gilbert da Costa. I remember he returned with a tape of the Cameroonian Presidential Guards music later made popular by Shakira.
"I have fond memories of that trip", Banji said. It was my first international assignment and I enjoyed every bit of it. Monrovia was then a lovely city, full of social life, especially at night. Shakira was very popular in Liberia back then before she featured at South Africa 2010."
da Costa found himself in Lagos as a refugee later and traced his friend to Champion House. I remember those difficult days when we all looked at him with pity. He reminded me of my years in Biafra.
"Yes, the Liberian Civil War broke out shortly after. I met Gilbert da Costa, a Liberian journalist. He was one of the refugees brought to Nigeria and he traced me to Champion House. He is now an accomplished publisher in Ghana, married to a Nigerian lady, an ex- Guardian reporter, " Banji added.
In 1994, the Champion man was involved in an air crash when an Oriental Airlines flight crashlanded in Algeria, on the way to Nigeria from Tunisia. Five persons including the pilot, co-pilot, an air hostess and two footballers lost their lives.
"I was bonded with Iwuanyanwu Nationale. I was on the team's entourage again to Tunisia for the first leg, quarter final match of the African Cup for Champion Clubs with Esperance. The match ended 3-0 in favour of the home side.
"We travelled to Tunisia in a chartered aircraft ( Oriental Airlines), thus we left immediately after the match. Everyone wore a gloomy face a a result of the heavy loss. Tragedy struck as our plane crashed in Tamanrasset, southern Algeria where we planned to stop over for refuelling," he said.
I remember that crash. Initial reports indicated that chances of survival were slim. Mrs Tinu Ola was heavy at the time, expecting a baby, and hubby back, too. Her brother-in-law, Soji, a naval officer acted fast.
When Soji heard news of the crash, he rushed to Banji's Idimu, Lagos home. Anytime it was time for news on TV, the lights were switched off. Madam was in the dark all through but was quick to ask why NEPA (the electricity authority) would not allow her watch news.
It was only after confirmation came that her husband was one of the lucky survivors that she was allowed to watch the news. Poor NEPA, they took the blame for blackout when indeed they were not guilty as charged.
It is quite an irony that the same man who survived an air mishap and almost vowed never to be air borne again, is today always in the air as Communications Manager, Arik Air.
"Yours truly came out of that crash unscathed (Glory be to God). Till date, I still have a phobia for air travel. Reason why it took me about 13 years after that crash to venture into travelling by air, this time to Accra, Ghana to cover the CAF African Footballer of the Year award sponsored by Glo.
"Real irony. I still can't believe it, working in an airline. I still have this occasional fright when airborne."
It was in 1990 that Banji first journeyed to Tunisia and it was with Iwuanyanwu, against the same Esperance, again in the quarter finals of the same competition. The game ended 1-1, thanks to Steve Ezugha's 77th minute equaliser. Nationale qualified 3-2 aggregate.
According to the Sports writer, "Something interesting happened on this trip. I was the first Nigerian journalist to arrive Tunis. There was no direct flight between Nigeria and Tunisia, thus I flew Alitalia to Rome, Italy, from there I connected Tunisia using Tunis Air.
READ ALSO: Property Manager Docked For Allegedly Stealing 6 Toilet Seats
"I was prepared for the communication problem I encountered. Before leaving Lagos, I got Sports Editor, Paul Bassey, a linguist, to write 'take me to a cheap hotel', in French on a piece of paper. That helped me a lot. When the team and accompanying journalists arrived a day to the game on a chartered Air Force flight, I became the ' landlord' showing them the way."
In 1991, Banji landed in Italy again. Champion Newspapers sent him to cover the FIFA Under- 17 Championships. The Golden Eaglets were not there but his company under the able leadership of Prince Henry Odukomaiya, showed so much interest in sports.
He said: "I doubt if we can have another newspaper like Champion or a newspaper man like Prince Odukomaiya. My most memorable game was the final of the 1991 Under- 17 World Cup in Italy."
Banji's father drove him from soccer so the young man chose sports writing.
"It was sheer providence that I found myself in sports writing. I loved football as a young boy but my father (God bless his soul) didn't like it. This discouraged me but couldn't kill my interest in the game.
"In my second year at the Polytechnic, Ibadan, I was posted to Nigerian Tribune, Ibadan, for the mandatory six months Industrial Attachment. When I was asked my preferred desk, I did not hesitate to pick the sports desk then headed by Washington Tamakloe. The rest is History."