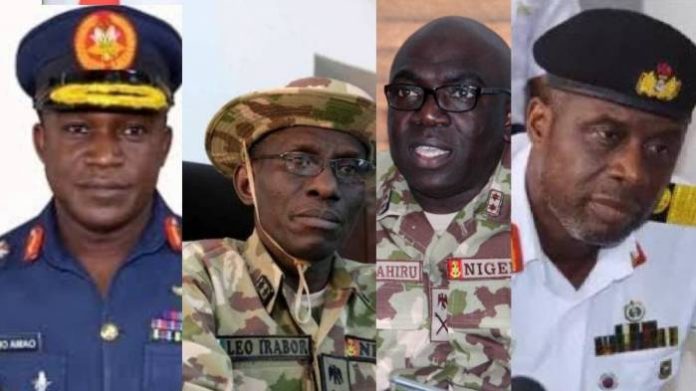 When it rains, it pours. That is the lot of Nigerian Navy following the resignation of Service Chiefs and the appointment of Rear Admiral Awwal Zubairu Gambo as Chief of Naval Staff (CNS).
Gambo takes over from Vice Admiral Ibok-Ete Ikwe Ibas who succeeded Vice Adm. Usman Jibrin in 2015. The new CNS belongs to Regular Course (RC) 36 of the Nigerian Defence Academy (NDA). That is ten steps below his predecessor who left as part of RC 26.
The import is that any naval officer still in service and who passed out before Gambo is not expected to remain in the Navy. In other words, all officers of RC 26, 27, 28, 29, 30,31, 32, 33, 34 and 35 respectively have to leave.
This is unprecedented. The Navy did not run into storm when Ibas was appointed in 2015. He took over from Vice Adm. Usman Jibrin of RC 24. That change did not shake tables because naval officers of RC 25 could move to Defence Headquarters to serve under Gen. Gabriel Olonishakin who was their coursemate at the NDA.
Jibrin succeeded Vice Adm. Dele Ezeoba who was two courses his senior at the NDA. Ezeoba is of RC 22 and was the most junior of service chiefs at the time. His AirForce counterpart, Air Marshal Alex Badeh, was of RC 21. Army Chief, Lt. Gen. Azubuike Onyeabo Ihejirika was by far their senior, having passed out as a Cadet of RC 18.
The Army was more affected in 2015. Lt. General Yusuf Tukur Buratai is of RC 29 while his predecessor, Lt. Gen. Kenneth Minimah, was of RC 25. Under that arrangement all officers of Regular Courses 25, 26, 27 and 28 respectively were not going to serve under their junior.
The  picture then was that naval officers senior to Buratai remained in service while their army course mates were retired. Their luck was that Ibas was three courses superior to the Chief of Army Staff.
Adm. Gambo, from Nasarawa Local Government Area, Kano State enlisted on September 24, 1984. He was commissioned on September 24, 1988. It is interesting that he began service when Gen. Muhammadu Buhari was Head of State and he will probably end his career under President Buhari. Gambo is 55.
READ ALSO: 2021 World Education Day: ActionAid Nigeria Calls For Increase Allocation To Education From 15% – 20%
Until this elevation, Gambo was a Flag Officer Commanding (FOC), equivalent of General Officer Commanding (GOC) in the Army and Air Officer Commanding (AOC) in the Air Force.
Tradition permits him to choose a new management team. It thus means that his course mates and those from RC 35 and below are in for a bazaar of promotions.
The new service chiefs are not so far away from each other in terms of seniority. Chief of Defence Staff, Maj. Gen. Lucky Eluonye Onyenuchea Irabor is of NDA Regular Course 34. He is 56 and hails from Aliokpu, Agbor in Delta State.
Chief of Air Staff, Air Vice Marshal Isiaka Oladayo Amao, is of RC 35. He is from Osogbo, Oshun State and is also 56 years old. Until this appointment he was in charge of the Armed Forces Rehabilitation Centre, Oshodi-Lagos.
Chief of Army Staff, Maj. Gen. Ibrahim Attahiru, is well known in media circles, having served as Army spokesman in the past. He was also GOC 82 Division and was visible in the fight against insurgency until 2017.
As usual, the South-East Geo-Polical zone was overlooked. Somehow, President Buhari seems to have played a fast one. The Chief of Defence Staff is Igbo from the South-South. The Chief of Air Staff was born in Enugu while the Chief of Army Staff served in Enugu.
The North- East seems to have lost out. Buratai is a Bura man from Yobe. Immediate past Air Chief Sadiq Abubakar, hails from Bauchi. Under the new dispensation, there is no service chief from the zone.
Gambo is the first Chief of Naval Staff from Kano. Irabor is the first service chief from Agbor. The closest  Agbor got was on the Biafran side during the Civil War when Captain Wilfred Anuku headed the Biafran Navy.