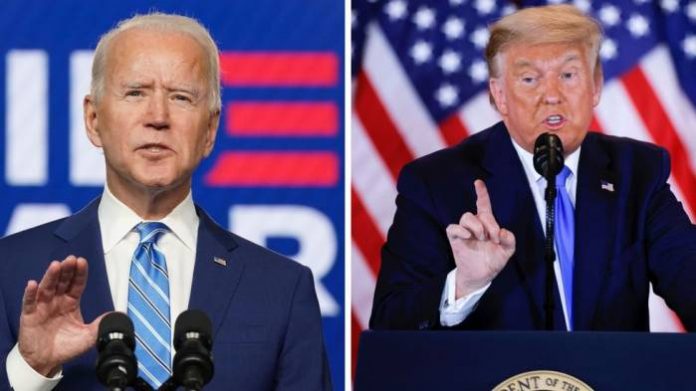 Democratic candidate Joe Biden has pulled ahead of Donald Trump in Pennsylvania, a key state in the US presidential race, results data show.
Mr. Biden is leading by more than 19,500 votes, with 98% counted. If he takes the state, he will win the election.
Earlier, Mr. Biden edged ahead of his Republican rival in Georgia, another key battleground state, where a recount will now be held.
Meanwhile, the Trump campaign said: "This election is not over."
Trump campaign lawyer Matt Morgan claimed without evidence that ballots in Georgia were "improperly harvested" and that in Pennsylvania election observers were not given "meaningful access" to counting.
In a statement later, Mr. Trump said: "From the beginning we have said that all legal ballots must be counted and all illegal ballots should not be counted, yet we have met resistance to this basic principle by Democrats at every turn.
"We will pursue this process through every aspect of the law to guarantee that the American people have confidence in our government. I will never give up fighting for you and our nation."
A senior Trump administration official has told CBS News Mr. Trump does not plan to concede in the event of a victory declaration by Mr. Biden.
There are reports from the Biden campaign in Delaware that he will address the nation on Friday evening local time. This is believed to be dependent on the race being called by then.
What's the current state of the race?
Mr. Biden has 253 Electoral College votes, while Mr. Trump has 214. To win the White House, a candidate needs 270.
Some news organisations have a higher tally for Mr. Biden, having projected a win for the Democrat in Arizona.
Pennsylvania, where Mr. Biden was born, has 20 Electoral College votes. If the Democrat wins it, he will secure the victory with 273 votes.
Election officials there said the count could take several days.
Pennsylvania has always been a major political battleground. The state voted Democrat in six consecutive races before it swung to Mr. Trump in 2016.
In Georgia, Mr. Biden is currently leading with more than 1,500 votes, with 99% of the ballots counted. Georgia's secretary of state said there would be a recount because the margin was so small.
Georgia is a traditionally Republican state and has not been won by a Democrat in a presidential race since 1992.
Mr. Trump's team says legal challenges and recounts in some states will favour them.
READ ALSO: Man Who Trekked For Buhari In 2015 Seeks Assistance For Limb Pains
Bob Bauer, a Biden campaign lawyer, says the lawsuits are legally "meritless."
The vote is also currently too close to call in Nevada and North Carolina.
A win in just Pennsylvania, or two of the other four remaining states would be enough to confirm Mr. Biden as president-elect.
Mr.Trump would need to win Pennsylvania and three of the remaining four states.
Here's the latest from the three other key states:
Mr. Trump has cut the Mr. Biden's lead in Arizona (11 electoral votes) to less than 40,000 votes, with 93% counted. The BBC's partner CBS News has categorised the state as a "likely" win for Mr. Biden
Mr.Trump had a lead of more than 76,000 in North Carolina (15 electoral votes), with 96% of ballots tallied
In Nevada (six electoral votes), Mr. Biden has an edge of more than 20,000 votes, with 90% counted.
What have the candidates said?
On Thursday, Mr. Trump said: "If you count the legal votes, I easily win. If you count the illegal votes they can try to steal the election from us."
Beyond allegations of irregularities, the Trump campaign has not presented any evidence.
The president added: "We were winning in all the key locations, by a lot actually, and then our numbers started getting miraculously whittled away in secret.
"There's been a lot of shenanigans and we can't stand for that in our country."
Mr. Trump actively discouraged his supporters from voting by mail, while Mr. Biden urged his voters to do so, and it is these postal ballots that are now being tallied in the key states.
Analysts also say the president's claims of Democratic electoral corruption are undermined by the better-than-expected performance of his fellow Republicans in congressional races.
Utah Senator Mitt Romney on Friday joined a number of Republicans criticising Mr. Trump's comments. "He is wrong to say that the election was rigged," Mr. Romney tweeted.
Several US networks cut their feeds of Mr. Trump's speech.
Meanwhile, Mr. Biden appealed for calm and again expressed confidence he would be declared the winner.
"Democracy is sometimes messy," he said in a televised address. "It sometimes requires a little patience as well."
"The process is working. The count is being completed. And we'll know very soon."
As results trickle in, protests involving both sides have been held in major cities over the vote counting.