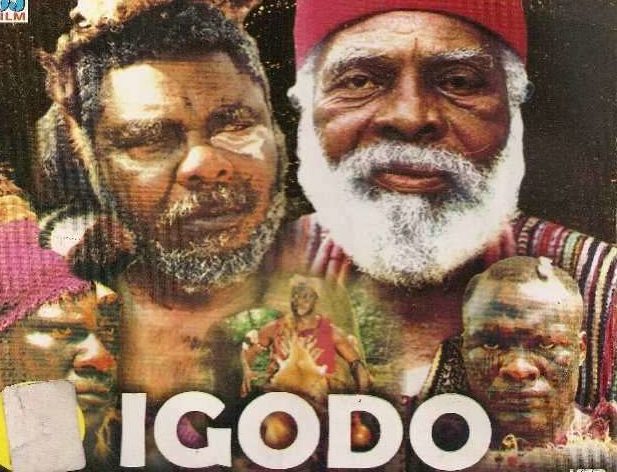 The Nigerian movie industry in the late 90s and early 2000s was indeed engaging. The movies were few, but very captivating with messages that were difficult to forget. The storylines were tight and you could watch the movies over and over again without getting bored.
It may not be wrong to say that Nollywood was at its best with epic movies that still hold sway till date.
The general belief is that the storylines were indigenous and script writers were also original. There's a school of thought that believes that if past movies are rejiggered with modern peps such as cast and technologies they would still hold people spellbound. And, of course, we have seen such moves geared towards bringing back old memories to modern realities.
In 2015, news made the rounds that Award-winning Nollywood actor, Ramsey Nouah together with entertainment/business mogul, Charles Okpaleke were teaming up to remake Kenneth Nnegbue's epic movie, "Living in Bondage," which was first produced 26 years ago.
The re-make would be a crowd puller any day. Different people would, of course, have their personal favourites, but majority would agree that a few of those old movies would still make waves in this day and age with introduction of a bit of modernity into it.
Next Edition serves you some of those classics that will certainly heat up the cinemas if they ever get re-made.
1) DIAMOND RING
"Diamond Ring" which was produced 20 years ago was directed by Tade Ogidan. The movie featured Teju Babyface , Liz Benson, Sola Sobowale, Richard Mofe Damijo (RMD) and the late Bukky Ajayi.
In the movie, young and smart Chidi, played by Teju Babyface, was cajoled by his friends into joining a cult group. He was instructed to rob from a corpse in order to prove his worthiness. He stole a diamond ring from a dead woman, Gladys, which was played by Liz Benson. This well scripted and suspense filled movie brought Teju Babyface to limelight.
2) MOST WANTED
"Most wanted" was directed by Tunji Bamishigbin 20 years ago. Bamishigbin is also the director of the 1999 classic "Camouflage."
Most wanted told the story of four unemployed female graduates who,unable to get a job decided to try robbery while disguising themselves as men. The movie starred Regina Askia, Ibinabo Fiberisima, Ayo Adesanya, Liz Benson, Bob Manuel, Genevieve Nnaji and Antar Laniyan.
READ ALSO: Stop asking me how does it feel to be a single mother – Waje
3) SAKOBI – THE SNAKE GIRL
This is another Nollywood evergreen. The work of consummate producer Zeb Ejiro, the movie tells the story of Francis who in the quest for money had to give his only daughter as a sacrifice for wealth. Unfortunately, the daughter was rejected by the Kongodi, which led to Francis being punished with a short life span. Sakobi starred Tony Umez, Susan Patrick, Saint Obi, Edith Ujay, Sunday Omobolanle, Zik Okafor and others.
4) SCORES TO SETTLE
This movie tells the story of a woman who was rejected by her in-laws after the death of her husband. She took to the streets with her two sons and embarked on a long journey of suffering facing insecurity, poverty and hunger. It starred Liz Benson, Richard Mofe Damijo and Omotola Jalade-Ekeinde.
5) ISSAKABA
"ISSAKABA" wasn't just a movie, it was a movement which told the Nigerian story. This Lancelot Imasuen movie shaped up Nollywood action genre in 2001.
The movie told a story of a group of men with diabolical powers, which they used to eradicate corruption and purge their land of evil men. Issakaba was produced at a time when vigilantes served as the substitute for the judiciary especially in the eastern part of Nigeria.
This 2001 movie was inspired by the Bakassi boys, a popular vigilante group in Onitsha and Aba who were known for combating crimes by setting their victims on fire. Although the act was adjudged brutal, it was approved by citizens who felt they were ridding the society of criminals. The movie featured Sam Dede, Emeka Nwafor, Tom Njemanze, Uche Odoputa, Chiwetalu Agu, Pete Eneh, Amaechi Mounagor, John Okafor and others.
6) IGODO
Igodo has been tagged the best epic movie of the home video era. The 1999 movie was directed by Andy Amaechi and tells a story of seven brave warriors who were sent to embark on a dangerous journey to an enchanted land in order to save their village from a deadly curse. The movie starred: Pete Edochie, Norbert Young, Sam Dede, Amaechi Muonagor, the Late Prince James Uche and Charles Okafor, among others.
7) RATTLE SNAKE
"Rattle Snake" is a 1995 movie, which was directed by the late Amaka Igwe. The movie tells a story of a young man who due to unfortunate events in his childhood went into a life of crime. This classic movie also featured scenes with gang rivalry and intense passion. It was the first action movie produced in Nollywood and was based on a true life story.
The movie starred so many top actors including Francis Duru, Genevieve Nnaji, Stella Damasus, Chris Okotie, Uche Oduputa, Bob Manuel, Julius Agwu, Ernest Obi, Nkem Owoh, Anne Njemanze and many others.
So which other movies do you think should have made this list?