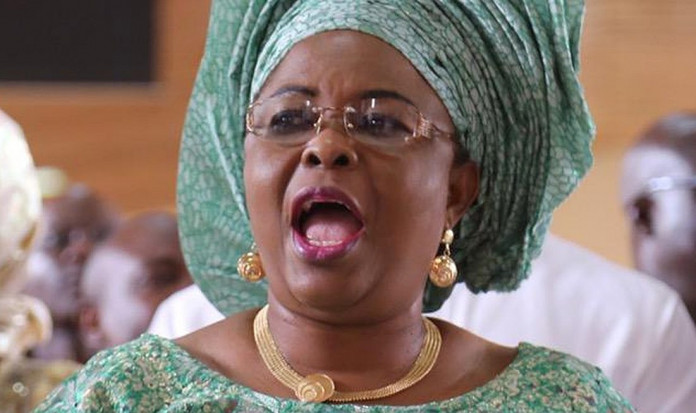 Former First Lady, Dame Patience Jonathan, has appealed to President Muhammadu Buhari to stop the Economic and Financial Crimes Commission (EFCC), from "witch-hunting" her.
She accused the Chairman of EFCC, Ibrahim Magu, of bias and intimidation with the intention of destroying the her  family.
She also said the posturing of the EFCC had become similar to that of an organisation on a revenge mission.
The complaints of the former first lady are contained in a statement issued by her media aide, Mr. Belema Meshack-Hart, on Monday in Abuja.
While accusing EFCC of spreading barefaced falsehood and propaganda against her under the guise of a probe, she said no other former first lady had faced "such brazen intimidation in the history of this country."
"For almost three years, the EFCC has beamed its searchlight on me and my family members, including my siblings and parents, as well as my Foundation and Non-Governmental Organisation.
"As a tradition, every First Lady in this country has had one pet project or the other, with which they sought to intervene in the lives of the less privileged,'' she said.
Patience Jonathan who explained that she started her NGO in Bayelsa State about 11 years ago, when her husband was the governor of that state, said it was unimaginable that she was being unnecessarily bothered about it.
According to her media aide, "it is surprising that while other first ladies and their pet projects were left alone, it is only her activities and that of her NGOs that are being subjected to indefinite probe and microscopic scrutiny."
"It has come to a point where all the magnificent edifices in Abuja, Yenagoa or Port Harcourt are presented to the media as belonging to Mrs. Patience Jonathan. She has been accused of owning several plots of land in many cities across the country, including places she has never visited.
"The most astonishing of all is that her close relatives are being victimized and their personal properties are being investigated," the media aide added.
Although Wilson Uwujaren, EFCC spokesman, could not be reached, a senior official of the commission denied that the organisation was witch-hunting the former first lady.
"We are not out on a witch hunt; we are not targeting anyone or family for a witch hunt; it is not only Mrs. Jonathan that is being investigated. Many people are answering questions in various places.
"Those found guilty will be charged before a competent court of law; those who have nothing to hide should have no fear because we shall not victimise anyone that is innocent," the source said craving anonymity.