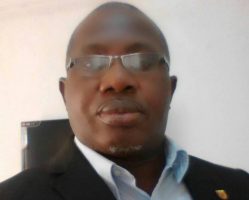 Edson Arantes do Nascimento was not just King of Soccer in Black Africa, he was deified. His nickname, Pele was adopted by some of the best.
In Ghana, there was Pele before Abedi. Many may not remember the Nigerian who rose from Bambilla to play for the Black Stars at the Mexico ' 68 Olympic Games.
Amusa Gbadamosi won the African Nations Cup in 1965 with Ghana. It was in Tunisia and one of his team mates was fellow Nigerian, Ganiyu Salami.
In 1967, Nigeria sent Maj. Ibikunle Armstrong to bring back Gbadamosi who had become Amusa Pele to Ghanaian fans. He had played for Northern Star and was doing well at Accra Hearts of Oak.
Gbadamosi followed Armstrong back to NigfeaturATwo other compatriots, Ganiyu Salami and Ben Aminu Arafat returned to Lagos. However, Gbadamosi could not stay on. He quickly returned to Accra.
In 1968, Gbadamosi played as a Black Star at the Mexico Olympics. Mexican fans added African Pele to his name. Another Nigerian, Ibrahim Sunday featured for Ghana at the Mexico Olympics.
Gbadamosi played for rivals Asante Kotoko and Great Olympics. Curiously, he had cause to play against the real Pele in Accra when the Brazilian visited with Santos in February 1969.
The game ended in a 2-2 draw. Pele scored, Gbadamosi also found the back of the net. African Pele became a teacher and one of his students, Mohammed Ibn Chambas, rose to the position of ECOWAS Presiden
This was one month after Pele and Santos stormed Lagos and earned a 2-2 draw with NFA Selected. Eko fans were so thrilled by Santos' right winger, Sabara, that they nicknamed Sebastine Brodericks, Sabara.
,
Abedi Ayew did not begin as a star. He struggled but at the end, the man moved from Real Tamale United to recognition in Europe. With Marseille, the Ghanaian became European Champions League winner in 1993.
READ ALSO: Kebbi Boat Mishap: 14 Bodies Recovered, 6 Still Missing
Abedi threw away Ayew and became Pele. Ghana will always remember the young man who lifted the African Nations Cup as an 18- year old in 1982.
Abedi Pele and his family have given so much to football in their country. His younger brother, Kwame, won soccer bronze at the Barcelona '92 Olympic Games. Another brother, Sola also represented Ghana as a Junior International.
Andre Dede Ayew is Abedi's son. He led his nation to gold at the 2009 FIFA Youth Championships. That feat has not been achieved by any other African country.
His other sons, Ibrahim and Jordan have also represented the country at the FIFA World Cup.
At the Qatar 2022 World Cup, Andre and Jordan could have made History as the first siblings to be pulled out at the same time in a match.
Devils of Congo also had at least one Pele. He was Francois M' Pele. Born in Brazzaville, the player moved to AC Ajaccio, France from Standard. There he found Marius Tresor who would end up as Vice Captain of Les Blues.
M'Pele belonged to the Golden generarion of stars like Moukila Paul and Minga Pepe. The Red Devils flew to Cameroon to win the African Nations Cup in 1972.
He was hotly demanded in Paris where Paris St. Germain were waiting. Lens had him too before the player retired to his bakery in Pointe Noire.
Idika Aku was a Tormentor in Chief. As an Aba Brought Up, he did not disappoint. Right from Superstars, the name Pele was what everyone chose.
After College at Eziama High School, Enyimba grabbed him. In the mid 1970s, soccer in Imo State was the birthright of Enyimba and Spartans.
When the Imo State government realised that it was easier for a cock to grow teeth than for Spartans to defeat Enyimba in Owerri, Idika was asked to proceed to Spartans, with his friend Ben Akanu(Picolo).
Idika Aku abandoned soccer for education and gained admission into University of Alabama Huntsville. That was the school of Ndu Isima, Godwin Gbenimacho, Ignatius Ilechukwu, Ahamefula Umelo, Sam Onyeaka, Emmanuel Awaitam, Mike Igbeka and Annie Nwanolue.
Isima has not forgotten Pele who died during a visit from his US base. He described him as a good sprinter as well.
"Aku was my team mate and we used to chat about the good old days. He was one of our three speedsters. The others were Sam Onyeaka and one Jamaican named Thames Blumfil" Isima told me.
As a pupil, I knew of Ikeokwu Agwunobi. We called him Pele because he was a damn good dribbler. The school boy had eyes on trading and ended at the popular Idumota Market.
That talent did not blossom. Today, It lies cold in the grave with Ikeokwu who passed on a few a years ago.
Pele was Brazilian but his roots lie ln Africa. When he visited Algeria in 1965, a coup detat followed. President Ahmed Ben Bela was overthrown by his defence minister, Houari Boumedinne after Santos played the first of their scheduled two games.
During the Civil War, Pele visited Nigeria. Santos drew 2-2 with NFA Selected at Onikan and won the next game at Ogbe Stadium.
When O Rei visited again in 1976, Lt. Col Bukar Dimka led troops to assassinate Gen. Murtala Mohammed. Pele was whisked away to the Brazilian Embassy.
There was another top sports personalty in Nigeria at the time. Arthur Ashe, Wimbledon champion was at the Lagos Tennis Club. Pele disguised as a pilot and took off.