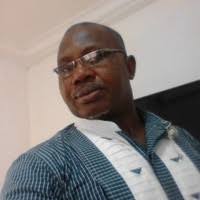 They were quite close, two goalkeepers who also did well for Nigeria. Patrick Udoh remains the first from the country to keep in a FIFA championships. Pat Okala was the first Nigerian goalie to win an African Nations Cup silver medal.
Udoh was in goal when the Flying Eagles defeated Russia 1-0 at the Mexico '83 FIFA Under 20 World Youth Championships. That was the first time Nigeria would take part in a FIFA tournament. Okala was in goal when the Green Eagles lost to Cameroon's Indomitable Lions in the grand finale of the Cote D'Ivoire ' 84 African Nations Cup.
The two Patricks were together in the Eagles camp later in 1984 for the Great Wall Cup competition in China. Udoh came in for injured Okala in the match against Germany. After that outing, they became very good friends until death snatched Okala in 1991.
Udoh has fond memories of his friend. " Patrick Okala was a complete gentleman and non partisan when it came to tribe and politics. We were like brothers and shared a lot in common. I was so close to him that I had to travel from Lagos to Enugu for his wedding. May his soul continue to rest in peace," he said.
Pat's elder brother, Emma Okala, was more decorated having won gold with the Green Eagles at the Lagos '73 All African Games and the Nations Cup in 1980. He was voted African Footballer of The Year, 1978 by African Sports Journalists Union ( ASJU) but the senior Okala did not take part in an African Nations Cup grand finale.
Udoh became Flying Eagles number One at Mexico '83 because first choice, Wilfred Agbonavbare, was sitting for his West African School Certificate exams in Benin City. When Tarila Okoronwata scored the lone goal that decided the match against the Soviets, the keeper knelt down and made a sign of the cross.
Tarila's goal came a minute to time and USSR, winners in 1977 and Runners-up in 1979, were stunned. Before the game, coach Nikolay Kiselev said there was only one team in their Group D, Brazil. He did not consider Nigeria and the Netherlands of Marco van Basten.
The Flying Eagles were battered 3-0 by Brazil in the next game decided in hot Guadalajara. The win over Russia was at the University of the New Lion Stadium in cold Monterrey. Agbonavbare was introduced after  the Brazilian goals. They scored in the 5th minute, made it two in the 32nd and got a third through a penalty kick.
Udoh explained the defeat : " After the USSR match, we had some mix up with jerseys and were 40 minutes late for the game. No warning up, we just went straight to play and the Brazilians took advantage of that. Before you knew it , we conceded two quick goals.
"Besides, Tarila had issues with the leader of delegation ( Sports minister Buba Ahmed), after he scored against USSR, journalists were after him, press conference here and there. The officials rebuked him for granting interviews without authorization and Tarila wasn't happy with that development. I believe that also affected the team."
The Flying Eagles drew goalless with the Netherlands in their last group match and were unable to advance to the next round. Chris Udemezue tried his best to instil discipline and this caused some of his players to see him as a tyrant,quite unlike assistant coach, Isiaka Yakubu. Today, they miss the same Udemezue.
The 1983 Flying Eagles would later dominate Nigerian soccer. Agbonavbare was at the USA' 94 World Cup. Paul Okoku, Chibuzor Ehilegbu, Yisa Sofoluwe, Humphrey Edobor, Dahiru Sadi, Raymond King, Edema Benson, Manu Garba and Chris Anigala became household names.
Taju Disu, Deinde Akinlotan,  Amechi Oti, Femi and Segun Olukanmi, Wahab Adesina and Mike Igbeka flew out for greener pastures. Skipper Ali Jeje stayed behind and died almost unsung. Anigala came back to Nigeria and passed on later.
READ ALSO: ECWA Leaders Urge Buhari To End Kidnapping Or Resign
Udoh is not happy that his place in Nigerian football records is not given appropriate recognition.
He said: " Yes, I remain the first Nigerian  to keep in a FIFA organised competition. Personally, when I remember it, I feel awesome but thinking of the country I represented I feel so sad because there's no recognition which is supposed to be a motivation for the past, present and future."
We also got talking about the Great Wall competition in China were Nigeria went with three keepers but Best Ogedegbe was converted to top striker following injury to Patrick Okala. Coach Adegboye Onigbinde was almost going to push his assistant, James Peters into the field.
"What really happened was that after the Cote D'Ivoire '84 Nations Cup, some of the players were not physically fit. Coupled with severe cold weather, old injuries resurfaced and about five players were ruled out.
"Again, some of us lost our luggage in transit so the team was depleted, as a result a goalkeeper had to play."
The Eagles were captained by Bala Ali. Nnamdi Nwokocha flew in from the United States. Kingsley Paul, Fatai Amoo, Kayode Balogun, Tony Edward, Clement Temile, Yisa Shofoluwe, Shola Popo and Paul Okoku were part of the team.
Udoh was also a very good striker. Occasionally, he was called up to play in the league for First Bank of Lagos.
"Sure, I was a goalie and also a field player. My career took me to First Bank, Lagos, NITEL, Lagos, Water Corporation, Ilorin and NEPA, Lagos. I started coaching first Bank as a player and left as Head Coach after Fatai Amoo. I moved on to  Starlet Uyo( now Dakadda, Bridge FC, Lagos, then Akwa United as Technical Adviser. Currently, I am with Vandrezzer, Lagos."
His first match for the Green Eagles against  Julius Berger in 1984. As a junior international, Udoh won the Gothia Cup in Goteborg, Sweden with the Youth Sports Federation of Nigeria ( YSFON) team in 1980. His team mates included Loveday Omoruyi, Paul Okoku, Taju Disu, Bremner Allada and Segun and Femi Olukanmi. They were also in Denmark for the Dana Cup, USA for Dallas Cup and Brazil for President Cup in Rio de Janeiro.
I stumbled on another Patrick Udoh who plays soccer in the UK. His family relocated from Lagos in 2005. This Patrick has brothers, Daniel, Dominic and Emmanuel who also tap football. Coach Udoh told me there is no link whatsoever. " There is no link at all. I was not even aware until you mentioned it."
His own children are not following Daddy's footsteps. " Although my first son was a goalie and field player, I strongly advised him to concentrate on his studies. He attended one of the private universities and as we are aware, they don't encourage sports over there. He wasn't actively involved anymore. He graduated four years ago and is into something else," Udoh added.
Patrick Udoh's dad was a player and did not stop his boy from following the game.
" As a kid, I was told of my excitement anytime I came in contact with a round leather object. My father was a footballer, well known locally. He promised that if I walked before my first birthday, he would gift me a ball. This he did even before time because I perfected the art very early.
" I started playing organised football from a tender age, Street versus Street in Ajegunle, Lagos and Primary School competitions in Badagry Local Government Area. And because of my performance I was selected to represent Badagry during the Lagos State Sports Festival. I started playing for my school, Western College of Commerce in Class one. I also played for Gaskiya College, Ijora Badiya in the Lagos State Principal's Cup".