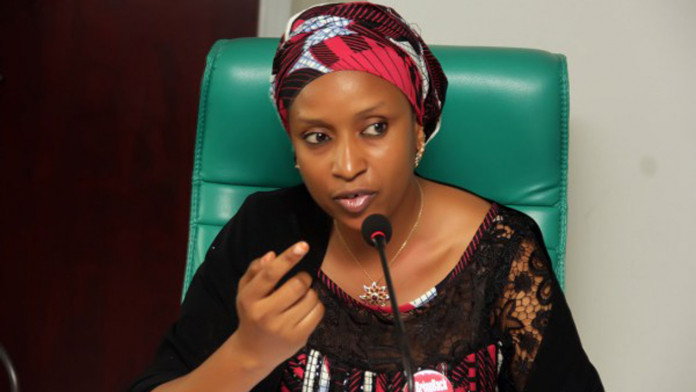 The date was Thursday, November 16, 2017. The venue was the Nigerian Ports Authority's headquarters, located on Marina, Lagos. The Executive members of the Nigerian Guild of Editors had an appointment with Managing Director of the Nigerian Ports Authority (NPA), Hadiza Bala Usman.
At about 9.30 a.m; the NGE's team was ushered into the meeting room of the organisation. Good-natured banters were exchanged as expected from a gathering of Editors. The same banters were exchanged in preparation for the appointment when it was announced that there would be a meeting. There were fears and counter-fears as per the venue of the meeting since NPA's offices were in traffic-prone locations in Lagos.
After the announcement of the courtesy call, one of the members had, on a social platform to which the executive members of the NGE belong, expressed his fears about the accessibility of NPA location in Apapa. "For the NPA appointment, I think one realistic way of making it to that meeting on time is to sleep close to the place. But those of you in Lagos should advise, please," he said. Two minutes later, another person in the group who is familiar with the terrain and, in fact, whose office is along that axis quipped, "If that NPA's visit is in Apapa, we'll need a helicopter… Or we park our vehicles at Mile 2, and trek to Apapa." That was inconceivable, if you ask.
Then after about five hours of waiting and making fun of the traffic that has ruined several businesses in the Apapa area of Lagos State, the President of the Guild, Funke Egbemode, dropped a hint on the platform, saying stoutly, "NPA is 26/28, Marina," Lagos. Shortly after that information was provided, there were several thumbs up for the President for bringing such good news and respite to members.
Read also: INVESTIGATION: How First Bank of Nigeria Limited Sacks Over 1000 Staff Using Text Messages in Nationwide Purge
The time for the appointment was 10 a.m. Most members arrived quite early especially those who anticipated traffic congestion on their way to the Island. But there was no serious traffic issue on the Third Mainland Bridge. After about an hour of waiting for those who were caught up in the traffic in Oshodi, the President of the Guild walked in with a tall, slim, and very pretty lady; followed by a few men in suits.
Clad in black long flowing skirt and a white long sleeves blouse, with her hair neatly packed behind, jazzed with simple accessories, the Managing Director of NPA, Hadiza Bala Usman, took her seat, while subtly examining the faces of the people present.
Hadiza looks simple, innocent, unassuming and full of toothy smiles. She appeared like someone who would not hurt a fly. But that's on one hand. But her actions speak volumes of the stuff she is made of. Her commitment to blocking all revenue leakages and her resolve to make operations at the ports seamless and efficient requires tough decisions, though.
During the interaction with the editors, she said her objective was to carry out major reforms that would bring back the lost glory of the ports. Without mincing words, she has commenced the arduous task of restoring the dignity of that critical sector of the Nigerian economy.
When she took over the mantle of leadership, she was confronted with some challenges arising from her desire to tackle a system that was deep in corruption and needed someone with a tough stance against it to instill some level of discipline. There were counter-attacks bordering on her reform programmes, which analysts described as "corruption fighting back."
The fact remains that many people did not actually know her antecedents beyond her role as the Co-Convener of the Bring-Back-Our-Girls (BBOG) Campaign formed in 2014 after about 276 girls were abducted in Chibok, Borno State. This explains why a few people were skeptical about what she would be bringing to the table. But instead of waiting patiently they decided to focus on issues that were seen as frivolities and mundane. One of such was her age. The second was what they described as her "inexperienced."
But wait a minute! Hadiza may be young with fragile looks, but she's extremely energetic, innovative and intelligent. People who have had the opportunity to work with her could testify.
Explaining how she felt about those who taunted her with snide comments about her 'inexperience' and age, she said "it is only in Nigeria that someone who is 41 is still being looked at as a small girl. Honestly, it is laughable. Some people interpret every action as being political." In the real sense of it, she sees the rationale behind such idle talks as a pull down syndrome, saying, "when you are trying to create reforms there is always a push back. Those who are affected by such reforms would always find a way to fight back." Unfortunately for those who are fighting back, she is not deterred and will not be until her objective, which is to make NPA a key economic driver in a well-run system, while putting in place structures to boost Nigeria's foreign earnings, is achieved.
Read also: SPECIAL REPORT: No-Work-No-Pay: We'll see in court, workers tell FG
Managing Nigeria's seaports through which over 75 per cent of imports and exports pass through may not be an easy task. Her major task is to institute best practices that would ensure ease of doing business in NPA's operating and administrative processes.
To her guests, she was quick to say "I'm keen on strengthening our communication. We'll partner with you in disseminating information on gains of our reforms. My aim is to make NPA's operations open and as transparent as possible."
She said the reforms were in conformity with the Federal Government's objectives of attracting Foreign Direct Investment (FDIs), while making the nation the hub of maritime business in the sub-region.
As expected one of the issues that cropped up was the state of the roads around the Ports. Incidentally, one of her major concerns is the deplorable conditions of access roads to the Ports. On rehabilitation of Apapa access road, she said the Authority was concerned about the deplorable situation of roads in the area.
"Even though it is not the core responsibility of the Authority to construct roads, the Authority has supported the Federal Ministry of Power, Works and Housing to the tune of N1.8 billion," she informed the Editors.
Continuing she said, "The Authority is willing to support further in order to surmount the challenge," adding that she was still working in conjunction with other bodies to restore sanity to the ports in the shortest possible time.
She said the traffic logjam was affecting the economy especially in movement of cargoes as most of the vehicles used in such movement are always stuck in the traffic logjam.
"The access roads to the Ports are in terrible conditions. It is affecting our economy. Movements of cargoes in and out of the ports are hampered. Goods are stuck in that locations."
According to her, the deployment of intermodal transportation system is the only way out of the logjam in conformity with the global standards. She added that this would provide reliable capacity and lower costs especially using trucks and train or ship, rather than just over the road.
She was also asked to comment on the dispute between the NPA and Intels Nigeria Limited over revenue sharing structure and payment procedure, which had generated a lot of controversies. She disclosed that the dispute was close to being resolved as Intel had written to the Authority to express its willingness to comply with rules and regulations guiding its transactions and operations.
She said her organisation was awaiting clearance from the Attorney-General of the Federation and Minister of Justice, Abubakar Malami, for possible restoration of the contract seized from the logistics firm. This is because the Attorney-General was drafted to give a legal interpretation of the dispute between the two bodies.
It can be recalled that Intels and NPA had been locked in a fierce business face-off, resulting in several tension-soaked meetings and exchange of aggressive correspondences between the two organisations. That followed the company's non-compliance with the Federal Government's Treasury Single Account policy, which NPA is mandatorily implementing.
Read also: SPECIAL REPORT: Jungle justice: Why Nigerians take law into their hands
The NPA had insisted that service boat revenues collected on its behalf by Intels be deposited in its account at the Central Bank of Nigeria, before they are shared by both parties. She said, "Nigeria has embarked on TSA (a public accounting system using a single account or a set of linked accounts to consolidate all inflows from all agencies of government into a single account at the Central Bank of Nigeria (CBN)). But Intels has not complied. We engaged them to get them to comply. They preferred to keep the money in their own account, which was against the policy of the Federal Government of Nigeria."
But Intels, on the other hand, felt, complying with the policy would have adverse effects on its finances and agreements with its bankers. Based on a legal advice by the Attorney-General, the NPA terminated the multi- billion Naira service boats contract it awarded to Intels some years ago.
The Managing Director said Intels had written formally, apologising for its initial rejection of the regulator's directive on TSA, stating its readiness to comply. She explained that the Authority was awaiting further directives from the AG for implementation.
Since assumption of office, she has had to deal with issues such as revenue leakages, indebtedness towards third parties, concession agreements, decayed port infrastructure that required renewal and ports that weren't operating at an optimum level in line with global best practices. Within a period of one year, her achievements have received thunderous applause from several people who even doubted her capacity to deliver on her assignment.
In one year, the Command & Control, Communication and Intelligence Centre for NPA was commissioned. This facility will serve as surveillance point for all activities and as an information network centre for security agencies at the ports. In June, the provisional, final billing and customer portal module of Revenue Invoice Management System, RIMS, aimed at improving the service offering, partner relationship, create efficient payment method, maximize revenue and eradicate loss associated with fraud and revenue leakage, was launched. To further improve operational efficiency, the Authority has also acquired and commissioned four new tug boats namely MT Daura, MT Ubima, MT Uromi and MT Majiya, among others.
Hadiza has broken the glass ceiling several times in the course of her professional life. Appointed by President Muhammadu Buhari on July 11, 2016, as the Managing Director of NPA, she has become the first female Chief Executive of a top tier Federal Government agency, the NPA. She was formerly the Chief of Staff to the Kaduna state Governor, Malam Nasir el-Rufai.
She has spent most of her working life in the public sector.