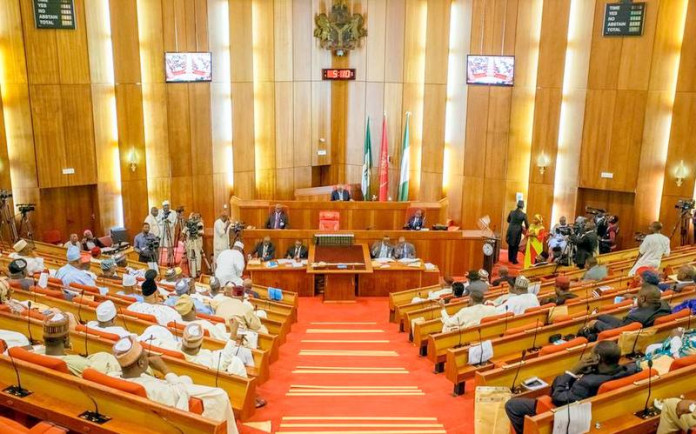 Senate President, Bukola Saraki, has decried the failure of dairy companies in the country to produce milk locally for their operations, warning that the situation where they resort to importation is no longer acceptable.
Saraki gave the warning on Wednesday when a delegation from Friesland Campina Group, manufacturers of WAMCO peak milk,  paid him a courtesy visit in Abuja.
A statement by the Special Assistant to the Senate President on Public Affairs, Mohammed Isa, quoted Saraki as saying that "this is a sector that we must ensure that we replace imported contents with local products. The dairy sector to me is not doing enough to support local production and this must change. It is going to happen and I want you to carry this message to your colleagues in the sector that it must happen".
Saraki lamented the reduction of import duty from 10 to 5%, saying the policy was in conflict with President Muhammadu Buhari's drive for economic diversification and self sufficiency.
"We cannot continue to allow that at the expense of our farmers and at the expense of the economy of this country, this must stop. I know that some years ago import duty on milk was 10% and we were trying to get it up but now I have been told that the sector has been able get it reduced to 5%.
"We are going to make sure that this is reversed because by leaving it at that you are going to kill local production. So, let us start it, I know you can do it, go back and come with a plan that we must be producing our own milk here", he said.
Saraki decried the billions of dollars being spent on milk importation annually, adding that, Nigeria had the lowest import duty in Africa at 5% and that there was nowhere in Africa where the duties of import is as low as it is in Nigeria.
"This is unacceptable and it must stop and it will definitely stop because we in the Senate, we are in support of President Buhari's policy of diversification of economy through agriculture.
"We are making some progress in the area of rice production.  We are making some progress in the poultry sector, and even in wheat production.
"But in dairy production , instead of going forward, we are going backward, by bringing the tariff down to 5% where are the incentives? That is discouraging and going forward, we must put a programme that must ensure that we start producing locally", he said.
The Senate President however praised Friesland Campina for its local content programme which has led to the annual purchase of millions of litres of milk from local farmers as part of the raw materials for their production.
Earlier, the Friesland Managing Director, Mr. Ben Langat, had said his company was involved in dairy production through partnership with the federal and some state governments.
The company, Langat said, had trained about 2000 farmers on cattle breeding and production of milk and assured that for every milk produced there is certain percentage of Nigerian content.