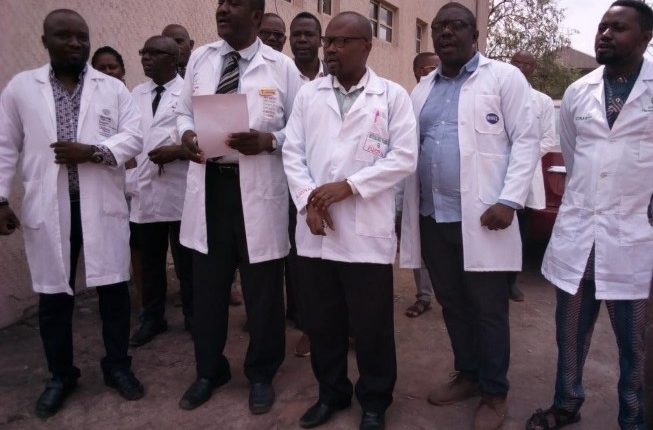 The association of Resident Doctors in Benue State has joined the nationwide strike as directed by its national body.
The President of Resident Doctors, Benue State Teaching Hospital (BSUTH), Dr. Ushakuma Aninga, disclosed this to The Next Edition in a chat in Makurdi.
Recall that rising from its 2021 National Executive Council (NEC) meeting, held in Umuahia, Abia, recently, the National Association of Resident Doctors (NARD) had directed its members to proceed on an indefinite nationwide strike, beginning from Monday, August 2, 2021.
The association had accused the Federal Government of insincerity in implementing its promises as contained in the Memorandum of Actions signed earlier with them.
They had also observed that the 113 days ultimatum earlier issued to state and federal governments to address the issues of welfare, training and service delivery by resident doctors had expired.
Dr. Aninga told our correspondent that they have joined the strike and there is no going back until their demands are met.
"Yes, we have joined the strike 100 percent. We joined by 8a.m this morning,"(Monday) he said.
According to him, the association, made up of several tertiary health institutions at the federal and state level, has been pursuing a lot of issues hinging on welfare.
He noted that at the national front, the association has doctors that are being owed three to seven months' salaries, while at the state levels, institutions like Imo State University Teaching Hospital have been owing salaries up to 19 months and Abia State University Teaching Hospital owing up to four months.
He further highlighted the inability of states to domesticate the Residents Medical Training Act, which according to him, was supposed to be domesticated in all the states of the federation but which has not been done as one of the issues necessitating the strike.
READ ALSO: Israel DMW Pleads With Nigerians To Beg Davido Not To Sack Him
"There is also a Medical Residency Training Fund which the federal government started paying last year. It's a yearly fund that is given to all resident doctors to assist them in their training updates. It was paid last year and this year, the federal government has been dragging its feet concerning the payment.
"For us in the state teaching hospitals, the Governor of Benue State, Samuel Ortom, has been very magnanimous and happens to be the first governor to domesticate the Medical Residency Training Act in the hospital here.
"He also approved the Medical Residency Training Fund to be paid to residents doctors here, the first in the country, about two months ago. But it has been two months now and we have not received the funds. That is a source of concern for us.
"This is one of the issues we are trying to highlight locally that the governor had given approval so he should investigate whoever is sitting on the approval down the line and ensure the funds is released to us. That is our own issue here locally.
He, therefore, urged the governor to fulfill his promise saying "even if the national body calls off, without that money being paid to us, it will be difficult for us to call off at our own local level."