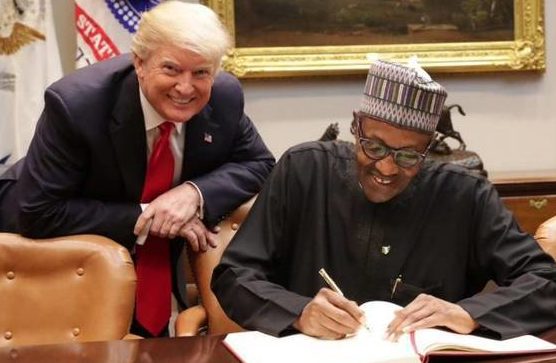 The United States President, Donald Trump is quoted to have mocked the Nigerian President, Muhammadu Buhari, calling him " lifeless " the Financial Times reported on Monday.
Mr. Buhari had visited the White House on April 30, where he met with his US counterpart in a move that was celebrated by Nigerian presidential aides as a historic moment for the two leaders.
But a report on FT has shown Mr. Trump loathed his Nigerian counterpart and confessed he would not wish to meet such leaders.
Mr. Trump is said to have mocked Mr. Buhari shortly after the Nigerian leader visited the White House in April.
READ ALSO: Foreign Titbits: Jacksonville shooting: Two killed at video game tournament
The article, which comes ahead of the visit to the White House of President Uhuru Kenyatta of the Republic of Kenya, showed Mr. Trump was not excited to meet Mr. Buhari as was painted in Abuja.
"The first meeting, with Nigeria's ailing 75-year-old Muhammadu Buhari in April, ended with the US president telling aides he never wanted to meet someone so lifeless again, according to three people familiar with the matter," the Financial Times report reads.
Neither the US or the Nigerian authorities have reacted to the Financial Times report.
Special Adviser on Media and Publicity, Femi Adesina, declined to speak on the issue when contacted by The NEXT EDITION.
"We do not speak on such issues," he said when our correspondent reached out to him on the telephone.