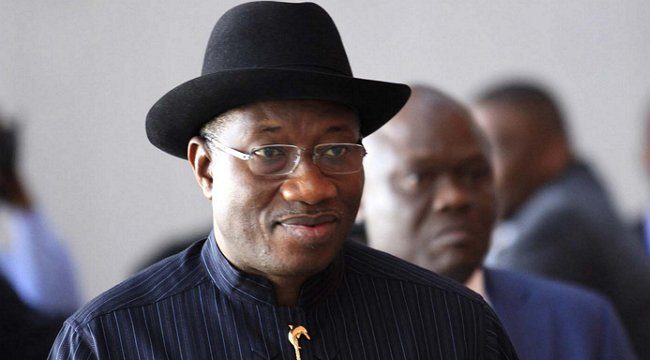 The last time I penned an open letter, it was to Uncle Timi Alaibe. In that letter, I urged him to be a true patriot and ambassador of the Ijaw nation and help build it for posterity by remembering that the blood that flows in his veins is unadulterated Ijaw blood. I also urged him to consider the higher calling of helping unite the Ijaw people under the Bayelsa umbrella by working to ensure that a true son of Ijaw land, like Sen. Duoye Diri, succeeds Rt. Hon. Seriake Dickson as governor of our dear state. This is a sequel to that open letter.
In this, I want to address ex-President Goodluck Ebele Jonathan to the reality of his existence and his place in the story of the development and growth of Ijaw nationalism and, why he must not drop the anchor at a time when all eyes are on him.
Your Excellency sir, please don't mind my addressing you through this medium. I don't mean to be disrespectful for indeed, you are my senior brother and I have always looked up to you given your humble rise from obscurity to Nigeria's pre-eminent position as Number one citizen and now, an emerging global citizen harvesting international recognition and acclaim in torrents, the latest being your appointment by the United Nations (UN) as Special Envoy on Crisis Management. You owe everything you have become to God and to your motherland, the Ijaw nation first, before Nigeria. The Ijaw nation gave you an identity.
The Ijaw nation gave you a name. The Ijaw nation was the fulcrum upon which you blossomed. This is not the time to turn your back on her because the Ijaw nation needs you now, more than you may need her.
Sir, from Ijaw land, you emerged to become Deputy Governor to our Governor-General, the evergreen Diepreye Alamieyeseigha. Along with him, you worked to put Bayelsa, the only Ijaw-dominated state of Nigeria, on the map of seriously-minded states seeking to catch up with the rest on the ladder of infrastructure development. Your loyalty and support to your boss won you many Ijaw hearts which supported your ascendency to the office of the governor when the opportunity presented itself. Your love for Bayelsa catapulted you into winning the governorship election in the state before divine providence used President Olusegun Obasanjo to change the course of your political journey and re-write the story of the Ijaw nation. When the opportunity presented itself afterwards, you showed your love for Bayelsa by working hard to ensure that Dickson moved from the House of Representatives to win the governorship election.
Sir, you had a tortuous outing in Abuja both as Vice President, Acting President and President.
There were forces that did not want you to become either of those because you bear a name that was not familiar to the rulership of the country. In all, the Ijaw nation stood solidly behind you. The Ijaw people defended you mindlessly. We held nothing back in defending your policies and programmes. Many of us suffered indignation and abuses because we saw in you, something that other people did not see. You have the same Ijaw blood flowing in you, as in all of us in Bayelsa. And when your tour of duty in Abuja ended, the Ijaw nation embraced you so warmly and provided you a cushion against the antagonisms of your traducers. You are on record to have confessed how surprised you were at the welcome party organized by Bayelsa state for you on your return. The Ijaw nation did not give up on you despite the fact that Bayelsa enjoyed no special privileges, in infrastructure development, in all your years as Nigeria's leader. In this area, Dickson had you covered and pushed the development of infrastructure beyond boundaries. Dickson watched your back.
READ ALSO: Aso Rock's Video Scandal: Daura Should Flog His Daughter
e always does!
Your Excellency, the story of your life up till this time, cannot be told without the role the Peoples Democratic Party (PDP) played in the making of you. PDP provided you with the platform upon which you became the global figure you are today. In a nutshell, PDP made you. While the Ijaw nation brought you forth into the world, the PDP provided the platform for you to reach the top. It, therefore, means that you owe PDP and the Ijaw nation debt of gratitude. This further means that the Ijaw nation, and PDP, expect you to give back something to Bayelsa, the state of your birth.
The forthcoming governorship election in the state is a call on you to give back. It is also an opportunity for you to show gratitude to the party. It is possible that some water may have passed under the bridge in recent times in such a way that did not catch your fancy. But like an elderly brother and a father, you also know that you do not throw away the baby with the bathwater. Bayelsa PDP needs you. A state that was once a pilgrimage centre for the who's who in PDP cannot fall to the opposition party that antagonized you at every turn. You hold the ace and should reconsider your decision to quit party politics at this critical time. I agree that a time will come when you'll assume the role of a global icon and work for humanity beyond Bayelsa. But for now, you are critical to electoral peace, and progress, in Bayelsa.
We all are working hard and praying too, that the story of Bayelsa be not written in the language of your traducers while you watched.
That will be a more profound humiliation. Have in mind the humiliation suffered by Justice Walter Onnoghen and Mrs. Winifred Oyo-Ita, worthy son and daughter of your home region, in the hands of the ruling party. We don't want that to happen to your now towering image to which there has been calculated efforts, and funded conspiracy, to diminish.
Finally Your Excellency, I beg you to find a place in your heart, that is, assuming, but not conceding, that you are livid, to forgive whatever now irks you about Bayelsa PDP. Your absence at the flag-off of campaigns for Sen.
Diri has been given negative interpretations in the media. Those negative interpretations are not good for your image and the fortunes of PDP. I, like many other Ijaw patriots, believe that you must step forward in support for Diri in much the same way you supported Dickson. As a father, you cannot love a son and discountenance the grandson. Sir, the Bayelsa state you once governed now needs you. The only thing Bayelsa PDP now wants you to give back is to lend a voice of support to its candidate. We know that Bayelsa is PDP and PDP is Bayelsa, but we still want you in our fold, helping push the positive narrative about the state, the Ijaw nation and PDP, as you had done in the past. Your Excellency, please don't turn your back on the Ijaw nation, Bayelsa state and PDP now.