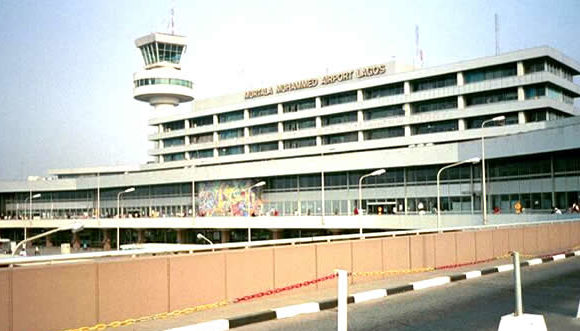 Participants at a recent Round-table on Corruption at Nigeria's International airports, after presentations and discussions, came to the conclusion that, indeed, it was at an alarming level and suggested ways to deal with it. Assistant Editor, CHINWE MADUAGWU reports.
Corruption is one major problem, which seems to have planted deep roots in the country. All efforts to rid the nation of the malaise seem not to be yielding fruits.
Of course, there are those who would argue that the government has done nothing but pay lip service to the fight against corruption.
Such people would argue that if the government was serious about tackling corruption in the country, it would pay greater attention to the activities of its agencies and parastatals.
The airports, especially, the international airports are gateways into and out of the country. They are the first port of call for foreigners visiting the country.
So, whatever impressions the visitors get at the point of first contact with the airport workers, go a long way in forming their opinion of the country and her citizens.
With this important point in mind, therefore, one would expect that officers who work at the airports would be above board and diligent in their duties knowing they are ambassadors of the country.
Unfortunately, the reverse seems to be the case. Rather than strive to promote a good and positive image of the country to her visitors, airport workers seem bent on further ruining the image of the country and Nigerian in general.
The above position is the assessment of the Executive Director/Founder, Africa Youths Initiative on Crime Prevention (AYICRIP), Mr. Christogonus Ibe, and he is not alone in that.
At a recent round-table tagged "Towards Creating a Corruption Free International Airports in Nigeria while Addressing Targets 5 & 6 of SDG 16" speakers highlighted the different corrupt practices that go on at the airports especially the international airports.
The round-table was organised by AYICRIP in collaboration with United Nations Information Centre, UNIC, Lagos, as part of the Nigerian Airports Anti-Corruption Campaign Project.
Welcoming guests to the event, Mr. Ibe, noted that activities of some employees of airlines and government agencies were deepening corrupt practices, destroying the image of the nation thereby rendering the campaign against corruption useless and ineffective.
Some of the agencies at which he pointed accusing fingers are, the Nigerian Immigration Services, the Nigerian Custom Services, the Police and Airline Operators/officials.
He said: "Beyond the activities of politicians in the sustenance of corruption in Nigeria, most citizens from different sectors of the economy, especially civil servants have been encouraging and promoting corruption through their actions, which have practically become a norm and culture in Nigeria.
"The Nigerian International Airports especially Lagos, Abuja and Kano have been identified as hot spots for corrupt practices considering the magnitude of extortion, bribery and other corrupt practices daily experienced by citizens and foreigners from some staff of government agencies and airline operators working within the airport."
He noted that "many Nigerian passengers especially first travellers and other users (foreigners) of the airports are fraudulently subjected to giving bribes by way of intimidation, harassment and extortion by either the airline operators or other government law enforcement agencies, which in many instances lead to cases of missed flights and depletion of Basic Travels Allowances, BTA."
According to the Executive Director of AYICRIP, the aim of the Round-table, therefore, was to bring to public notice the "increasing incidences of corrupt practices and victimisation Nigerians are subjected to by most airport officials especially the airline staff and immigration services, which have become a national embarrassment to many Nigerians.
"This roundtable will come up with a standardized format of airport operations, making sure that we have a mechanism for reporting corrupt practices as well as encouraging and rewarding those good Nigerians who are doing great.
"Exposure and publicity are the greatest antidotes to corruption. Anybody that is involved in corrupt activities, immediately you beam a searchlight on the person he goes off; corruption is friendly with darkness, so what we're doing with this project is to beam the light at the airport, so the entire Nigerians especially the government that is talking about anti-corruption, transparency, ease of doing business, know that some activities in our airports suffocate our ability to do business with foreigners and, therefore, tackle the real causes."
Presenting a review of the Nigerian Airports Corruption Risk Assessment Report by the Independent Corrupt Practices Commission, ICPC, Mrs. Titilayo Omonoyan, representing the agency's Zonal Commander, South-West, reiterated that airports present the first impression for international visitors.
According to her, though Nigeria has 26 airports and 30 airstrips, Lagos, Abuja, Kano and Port-Harcourt were the major gateways into Nigeria.
She noted that unethical conduct by airport officials had caused a lot of damage to the reputation of the nation and jeopardized the quest for increased Foreign Direct Investment.
According to Omonoyan; "62.2% of passengers surveyed while collecting data for the assessment said officials normally demanded bribes or gifts when carrying out their duties while 55.5% said the integrity of officials was very low. 52.5% of passengers surveyed confirmed that they have had cause to pay a bribe or tip to airport officials."
The agency, she said, identified extortion of money from travellers under various guises as the major act of corruption at the airports. She also said the agency observed high rate of abuse of On-Duty Cards (ODCs) by some officials particularly at the Lagos airport, to facilitate passages for travellers particularly VIPs and company officials in return for gratification, tips and gifts.
The high level of corruption, according to her, was made possible by several factors, which include "excessively long posting tenure at the airports, which often creates opportunities for posted staff to abuse their positions and power; over-crowding at the departure halls, creating opportunities for the demand of speed money to facilitate passengers' travel; poor remuneration of some agency officials and particularly staff of private companies and limited dissemination of information on the rights and obligations of passengers, which creates a huge gap exploited by some officials and touts."
Other corruption risk factors at the airports, according to her are; "limited automation of processes leading to a high degree of human contact between officials and the travelling community thereby creating opportunities for gratification and bribe; inadequate passenger and baggage screening equipment, which suffer frequent breakdowns further compounding the problem of human contact with officials and low level of technology usage in airport processes as regards billing and payment."
Omonoyan, noted that acts of corruption were not sufficiently punished to serve as deterrent to others.
As a way forward, the ICPC recommended a standardised Code of Ethics for the airports to be supervised by a multi-stakeholder Committee chaired by Federal Airport Authority of Nigeria, FAAN, and Nigerian Civil Aviation Authority, NCAA; limited posting tenure of two years for the security personnel at the airport and regular staff rotation within beats; that CCTV should be embedded with video analytics and reviewed regularly and officials caught brought to book.
Furthermore, the agency recommended that officials to be posted to the airports should undergo integrity training and testing; CSOs, which should include the media, professional associations and citizens, help to champion and monitor the implementation of the Integrity Plan and that in line with the National Policy on Aviation 2013, autonomy should be granted to FAAN and NCAA to source and structure funding arrangements with the private sector to purchase and maintain critical equipment.
In addition, the agency advocated for the constitution of an interagency task team to combat touting in the airports in a sustainable manner and vetting of staff of private companies.
In conclusion, Omonoyan said; "The Implementation of the Integrity Plan will bring about a drastic reduction of the challenge of corruption at the airports. Any officer of the agencies or airport user found to be engaged in corrupt acts will have the full force of the law brought to bear on him or her. Together we can raise the integrity of operations at our airports to be a beacon not only in Africa but the World at large."
Speaking on the topic, "The Challenge of Corruption Perception and the Burden of Gate-keepers: Towards the Reduction of Corrupt Practices in Nigerian Airports, Dr. Dan Ekere of the Department of Philosophy, University of Lagos, noted that to tackle corruption, the country would first deal with the issue of eroded values.
Positing that corruption cannot be totally eradicated, he held that the rise in corrupt practices in the country was a fall-out of "the erosion of our traditional pristine values."
He said: "The poverty of Nigeria is an aberration that has kept many abashed. But as daunting as the challenge is, when the question, what is responsible for it is asked, the answers you get make the challenge even more daunting.
"Most Nigerians are of the view that corruption is at the root of it all. Though I don't subscribe to that view, it is, however, not totally out of point as corruption is so pervasive in the land. To my mind, the worst challenge of Nigeria, which is fundamentally responsible for the ills including corruption, is the erosion of our traditional pristine values; it is the absence of such values that results in bad governance which in turn produces corruption of which all the other vices are mere manifestations thereby making corruption symptomatic."
On the effects of corruption, Ekere referred to Price Water-house Coopers' revelation that if nothing drastic was done to forestall it, corruption was capable of costing Nigeria up to 37% of her Gross Domestic Product (GDP) by 2030.
He also referred to the global corruption watchdog; Transparency International rating of Nigeria on corruption index as 148 out of 180 countries in 2017.
READ ALSO: Airport Safety: Enugu Gov't Directs Council Chairman to Relocate Traders
Recalling some negative experiences of international passengers, Nigerians and non-Nigerians as published in various news media, the University don posited that government must double its efforts in the fight against corruption at the airports.
To buttress how badly corruption at the airports affects the country, he quoted Samuel Getachew, an Ethiopian journalist who after a nasty experience at the hands of "some uncultured airline officials and security agents at the airport" said: "If Nigerians really want to fight what is perceived about them and what is being experienced in the nation [corruption], the first place to fight it head on is at its airports, where first impressions happen and where a culture of extortion seems to be widespread."
Speaking further on combating corruption at the airports, the University don said; "Several initiatives have been put in place to combat corruption. Clearly, there is the need for a more strategic and systematic approach to the fight against corruption. I do not think the "point-and-kill" approach of the Federal Government can actually achieve so much.
"What the current approach can achieve, at best, is to arrest, recover some money and possibly jail some of those who are said to have been involved in corrupt acts, but not necessarily debar intending criminals.
"It was reported that the Federal Government has directed that CCTV cameras should be installed in the airports so as to catch bribe-takers. This, no doubt, is a right step in the right direction. But the point must be made that CCTV cameras don't arrest and prosecute criminals. To start with, there is the need for a comprehensive overhaul of the entire sector.
"Again, technology is critical to the fight against corruption as cash based transactions are more prone to fraud. Technology would minimise fraud.
Apart from technology, the fight must be institutionalised such that the various agencies charged with such responsibility are given the enabling environment to operate without undue interference and fear or favour.
"There must be a long term strategy for sustaining the fight against corruption and the surest security against it is prevention whereas the most enduring way of ensuring prevention is proper education that is rooted in pristine values, which entrenches such values and not just an education that gives certificates to look for jobs and yet does not see anything wrong with stealing what belongs to all for selfish use with impunity. The values of contentment, hard work, uprightness, discipline, good name, etc. seem to have been totally eroded.
"In this regard, I will recommend the introduction of philosophy, particularly moral education with our pristine values emphasized, critical/creative thinking and philosophy of value at the elementary level."
Ekere also called for the exposure of those found to have engaged in corrupt practices.
"We must name and shame corrupt people unlike the case of those who were said to have refunded money to the Federal Government and yet their identities remain concealed. Government must be transparent and accountable just as the people must demand good governance, transparency, accountability and quality service delivery by government.
"There must be an effective mechanism of punishing crime. In this regard, the police and the judicial system must be strengthened through proper funding and training of personnel."
Concluding, Ekere said; "The benefits that accrue from effectively fighting and curbing corruption (not eliminating it) are enormous. All the negatives listed above will become positive. Reduction of corruption to its barest minimum means more money for the government and all things being equal, more money should translate into more beneficial projects such as well equipped hospitals/better healthcare delivery, well funded education, improved security of lives and properties, reduction (not elimination) of poverty, provision of more high quality social infrastructure, and ultimately a higher standard of living.
"In view of the UNDP Sustainable Development Goals (SDGs), especially 1-4, 6-9, and 16, we cannot but insist on a more aggressive, comprehensive, well instituted, strategic and sustained fight against corruption, especially in our airports and also in our seaports, land borders, etc. We must do everything in our power to reduce corruption to its lowest and tolerable level and keep our economic gates safe, encouraging and attractive to foreign investors with ease of doing business, knowing that at a point, we were ranked 182 out of 190 on the ease of trade index. Here lies the challenge of corruption perception and the burden of the gate-keepers."
In his own contribution, Mr. Femi Ajayi, National Project Officer, Capacity Building, United Nations Office on Drugs and Crime, Nigeria, UNODC, noted that it was important to talk about corruption in the airport because the airport was a focus point to any nation; "it is a gateway to any nation and the first impression you get when you enter a country goes a long way to tell you what you're likely to see during your stay. So it is important to talk about corruption in the airport."
He posited that the airport could give a positive or negative impression depending on an individual's experience. "If you are well received, it gives you a very good impression of the country but if it is otherwise then the impression is negative."
Ajayi held that the corruption could be considerably reduced, if not totally eradicated with commitment and putting necessary institutional frameworks in place.
He said: "In my view, you need progressive steps to tackle a monumental challenge like corruption. It is progressive so you just have to move from one stage to the other until you get to the limit you have set.
"The issue of absolute eradication of corruption is what I call a utopia. However, you can set a target, for instance, a government of four-year regime can say between the time we come in and the time we are leaving, this is what we want to do with the issue of corruption; maybe when the government came in corruption was at 75% they can say that by the time they are leaving, they should leave it at 25%. Somebody will come again and say from that 25% I want to leave it at 15% and so on. It is about commitment."
In the case of airports, he said, "there should be a very good surveillance system, people's attitudes should be monitored, we should have Closed Circuit Television, CCTV, that would monitor people's behaviour, apart from that it is also important to have appropriate sanctions. When we have erring officers, they should be sanctioned because when you sanction a behaviour the tendency of that behaviour repeating itself will definitely be reduced. "
At the end of the day, participants at the round-table agreed that it should not be business as usual at the airports as the country was losing billions to corruption at the airport.
As Mrs. Titilayo Omonoyan of the ICPC said; "Prevention is better and cheaper than cure."