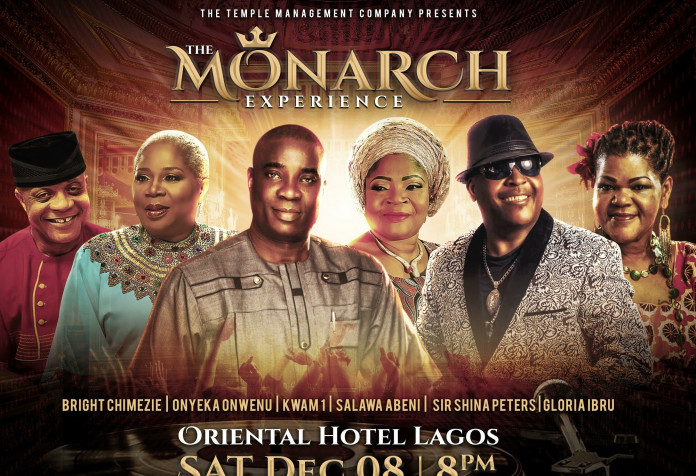 Some Nigeria's most celebrated music icons will light up the stage with their timeless songs and stellar live performances at a Live concert tagged, 'The Monarch Experience.'
The concert is scheduled to hold on Saturday, December 8, 2018 at the Oriental Hotel, Victoria Island, Lagos.
The night of rich Nigerian music variety is packaged by leading creative agency, Temple Management Company (TMC), the producers of the highly-successful "Sunny On Sunday – 2016 Concert" marking Juju Maestro, King Sunny Ade's 70th birthday.
According to organisers, iconic musicians billed to take the audience on a nostalgic journey are some of the finest to ever rock the stage presenting a cocktail of eclectic genres such as Fuji, Juju, Highlife and contemporary Afro Music.
On the line-up for The Monarch Experience are ; Kwam 1, Onyeka Onwenu, Sir Shina Peters, Queen Salawa Abeni, Bright Chimezie and Gloria Ibru.
Expected to grace the high-class event are the Crème De La Crème of the society, including high networth individuals (HNI), government officials, culture custodians, music lovers, style and fashion connoisseurs among others.
According to Mark Redguard, Head of Entertainment of Temple Management Company, 'The Monarch Experience' offers more than just entertainment.
READ ALSO: Wizkid gets paid N245.9 million to perform at a Royal Wedding
Mark explained, "With Sunny On Sunday," we delivered a live music concert experience of world class scale that can be taken anywhere in the world.
"We have put in more work because we have set a higher standard for ourselves from what we achieved previously. The end goal is to raise the bar with 'The Monarch Experience' and indeed deliver a memorable event that everyone will be proud of.
"It will provide the right ambience for socialising and networking. We envision that it has been a busy year for everyone and 'The Monarch Experience' presents the perfect atmosphere for people to reward themselves with an unforgettable experience."