The razzmatazz. The money. Beautiful houses and posh cars. Well-dressed people and the hustlers. These are some of what a lot of people see and know about Lagos, Nigeria's commercial capital.
But there are so many sides of Lagos that are not known to many who relish the lovely and "packaged," side of the megacity. One of such is Ilaje community, one of the disgraceful sanctuaries of poverty and want in Nigeria's city of bling.
Located in Bariga Local Government Area, it is not only one of the worst settlements in the megacity; it is also one of the most crowded. Conservatively, it is estimated that over 250,000 people live in Ilaje. But that's not the real issue.  The real issue is no fewer than 10 people live in some of the one-room shanties erected on top of the lagoon.
And there are several of such shanties dotting the lagoon settlement. The size of each of the "rooms" is about the 4'x 6' and should ordinarily contain at least two.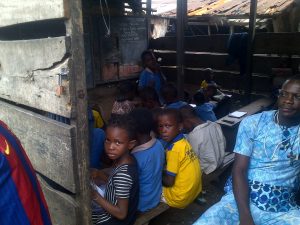 One of the most shocking things about this community is where it is situated. Outside the community, in Bariga area, there is a bit of development as you could see houses built with bricks and people going about their normal businesses as schools, hotels, markets, and hospitals in sight.
However, Ago Egun community in Ilaje, which is amid these developed areas, has nothing in common with the development.
In the densely-populated community of filth, fish comes handy and a majority of the inhabitants make a living by fishing, although others sell river sand.
Occasionally, storm waters from the ocean flood the community, leaving stagnant pools of smelly water which are also breeding grounds for mosquitoes.
A resident, who pleaded not to be named, told our correspondent, "Malaria is the most common ailment here. You can't escape a bit from them."
Most of the residents are so poor they cannot afford the least means of transportation a motorcycle. They depend on commercial bike riders to take them from the community outside and back to the community. But the problem is when it rains heavily, commercial motorcycle riders hardly go there due to the bad road. The transport fair on a motorcycle is N100 and many to residents there, that is a lot of money.
A trader in Yaba market who lives in the settlement, Henry Ojivi, complained bitterly about the deplorable condition of Ilaje access road.
"This is the worst period for people living in Ilaje. This is rainy season and you can see how bad the road is," Mr. Ojivi complained.
"It takes several minutes to find a bike to take you out of here when it rains. When you finally see one, you must bargain hard for the operator to give you a fair price. We are suffering and the government should do something to alleviate the plight of tax payers," he said.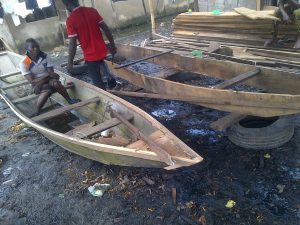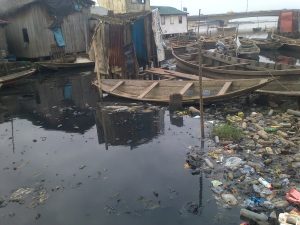 The environment is very dirty. People defecate anywhere because there are no toilets. "Everywhere outside of the rooms is a toilet," a resident explained.
Bolaji Johnson, a youth in the community complained bitterly to the Next Edition about how they lack basic amenities. "We are not happy at all. The basic amenities are not here at all. We have no hospital nearby.
Asked what they do in the case of an emergency, he said, "We have no choice, we have to go leave this environment before we get medical attention. Most people here rely on herbal medicine unless the case is critical before they visit the hospital. The hospital is in town. You have to spend nothing less than a hundred naira to get there. Another problem is that when there is an emergency at night, you won't see any bike man to carry such person to the hospital."
It was also gathered that most pregnant women in the community give birth with the help of traditional attendants. Only a few of them visit the hospital.
Solomon Okeowo, another youth who grew up in Ago Egun community, said that politicians visit there when elections are near but forget them as soon as they get elected.
"Before the local government elections, politicians came here regularly to seek for votes. People of this community no longer believe them. When they see that you can communicate properly, they will ask you to take them round and help them canvass for support. At the end, they give you N1, 000. We don't need money. All we need are the basic amenities."
Another major problem is water. Ilaje communities lack clean water and resident depend on the Hausas water hawkers for daily supply. A gallon sells for N50. They do have a borehole which was donated by the Lagos State chapter of the All Progressives Congress (APC). The problem, however, resident complain the water is not good for drinking and not enough to go around.
"The water is salty because of the environment. It isn't good to drink. Okeowo said.
It was also gathered that despite the problems of water, there has been no major water related ailment in the community.
The schools in the community are nothing to write home about. Although the pupils appear neat, the environment is an eyesore. The schools were built with wood and furnished with a few wooden benches. There are no tables – none for the teachers and none for the pupils.
Reas also: Exclusive: Ikeja: Nigeria's Strippers hub
Apart from the filthy environment, bad water, lack of proper healthcare and all other basic amenities, it was also gathered that most of the youths are not gainfully employed.
A resident, Sunday Masaga, sums up the feelings of the people of the area. He told The Next Edition, "Government has abandoned us."
With suppressed anger, he blurted, "Take a good look around, does this place resemble where human beings should live? This is a very a dirty community that lacks government presence. Coming home from work every day is a problem because the road leading to this place is terrible."
He stopped, gazed into the void as if seeking affirmation from the spirits and continued, "Our youths are idle. Our main occupation was fishing but one day they came and destroyed our boats, saying we don't pay tax. Even the white sand we used to sell, they have taken that job from us as well. We are left idle here."
Ilaje residents are accusing the Lagos State Government of destroying their sources of livelihood and making their lives unbearable.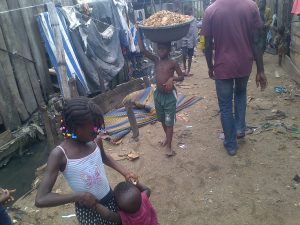 Some of the fishermen and sand dredgers, who were allegedly sacked by state officials, have resorted to crime. The young men invade and steal from neighbouring communities, the girls resort to prostitution.
Okada riders have become easy prey and one of them who pleaded not to be named for safety reasons said Ilaje is fast becoming a den of criminals.
"Apart from the bad roads, when it is dark, we don't go there because they harass us. They will corner you and begin to ask for money. If you refuse to give them, they beat you up mercilessly."
Some youth in the community were seen wandering about when our correspondent visited the area. But as soon as they sighted him and found he was a visitor, they cornered and wanted him to buy drinks and cigarettes for them.
But the idle youth also have stories to tell. One of them who identified himself as Solo, said, "We have nothing doing. The little jobs our parents were doing were forcibly taken away from them by agents of the government. We used to sell sand but the government took it over by fiat. We need help. We are suffering. Look at our toilets," he said, pointing to a small, rickety toilet constructed with corrugated iron.
"A normal person can't go there to relieve himself and that is why people do it anywhere," he said.
Another "area boy" who gave his name simply as Lucky displayed rich knowledge of his roots and the problem of Ilaje people.
"My father told me before he died that we are the owners of Lagos. They chased us away from the town," he told this newspaper.  "For instance, the land on which the University of Lagos is built belongs to this community. We are not fighting to reclaim the lands our forefathers were driven from but a responsible government should not only remember us but permit us to enjoy limited luxury in our shanties."
When The Next Edition visited the Baale of Ago Egun community, Ilaje, Mr. Felix Joseph, he refused to say much as a result of the people who have promised and failed them in the past.
"Many people, especially politicians have been coming here to talk to us in the past without doing anything. We need action. All this talk has not brought any development. We need government to come to our aid. I'm sure you have gone around and seen for yourself. Are we not human beings? If they need our vote in this community, it means we aren't useless." He said angrily.
Efforts to reach the Lagos State Commissioner for Information, Steve Ayorinde, and his counterpart in the Ministry of Environment, Babatunde Adejare, to get the government's side of the story failed as they would neither pick calls nor respond to text messages sent to them. However, when our correspondent visited the environment ministry, he was told the commissioner was out of town.