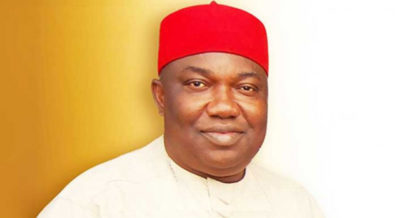 The Coalition of United Political Parties, CUPP, and the South East chapter of the Nigeria Union of Journalists, NUJ, have congratulated Gov. Ifeanyi Ugwuanyi of Enugu state on his re-election, urging him to strive to achieve more in his second term.
Chairman of CUPP in Enugu state Mr. Festus Ogbonna, conveyed the Coalition's good wishes during a briefing with newsmen in Nsukka on Monday, while the Mr. Petrus Obi, NUJ Vice President, S/E spoke in an interview with the News Agency of Nigeria.
CUPP chairman urged the governor to continue with his polices of human capacity building and infrastructural development that made the people to vote massively for him.
"The governor should continue his regular payment of workers salary every month as well as giving required attention to their welfare.
"The coalition also wants the governor to continue with his grassroots infrastructure development strategy which made every community to benefit at least in one developmental project every year," he said.
Ogbonna said that Ugwuanyi's re-election was a testimony that the people were satisfied with his achievements in his first tenure.
"The re-election of Ugwuanyi for second tenure shows that Enugu state people have spoken through their votes.
"CUPP congratulates Ugwuanyi on his re-election and urge him to achieve more for the people who through their votes expressed satisfaction on his first tenure," he said.
READ ALSO: Guber Election: INEC Declares Gov. Okowa Re-elected as APC Protests
He pledged the continued support of CUPP in the state to Ugwuanyi's administration to achieving more democracy dividends to the people.
"The rare feat of the governor in scoring over 90 per cent of total votes cast on March 9 is a testimony that Ugwuanyi has the maximum support of the people," he said.
In his own comments, Mr. Obi, Obi said: "the people have spoken through their votes and we must respect their wishes and aspirations.
"Journalists from South-East (Zone C) congratulate Ugwuanyi on his re-election to serve his people for another four years.
"The election on Saturday in Enugu state, which I personally monitored, was peaceful and hitch-free.
"INEC and the electorate played their roles well for the success of the polls at the end of the day.''
Obi expressed delight that Ugwuanyi demystified governance by bringing the people personally close to himself and being there for them when they needed government's presence.
"Ugwuanyi's government has continued to touch the lives of the people both as individuals, group or community.
"In about four years into his administration, he had touched each community in the state with one or two highly needed development projects.
NAN reports that Ugwuanyi won in the 17 local government areas of the state, polling 449,935 votes to beat Sen. Ayogu Eze of the All Progressives Congress, who polled 10,423 votes.
NAN