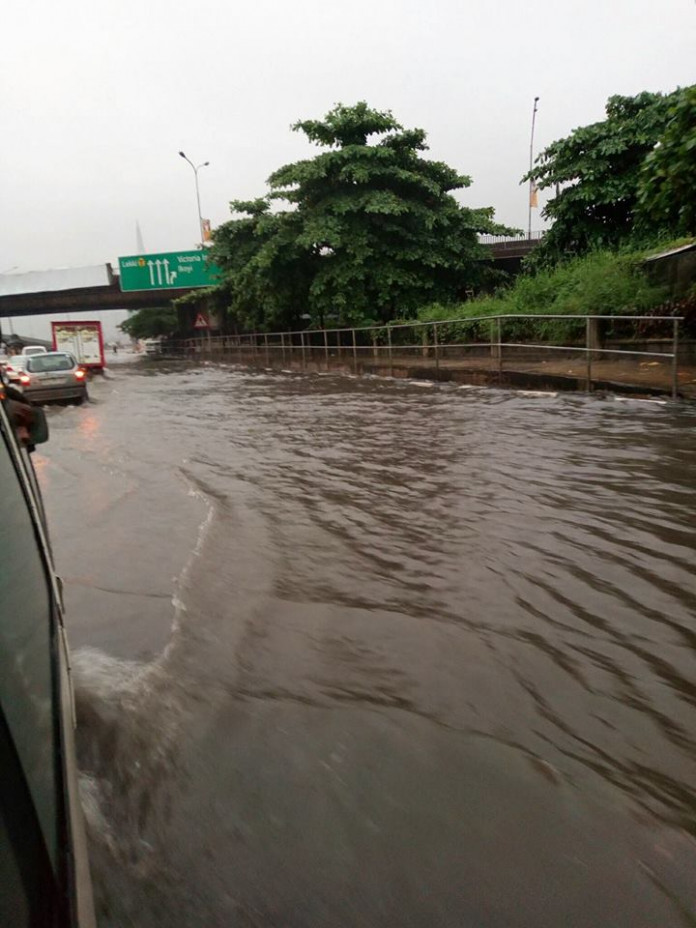 Downpour which began at 5 a.m. in many parts of Lagos State left many areas flooded and affected early commencement of voting in the local government polls in many areas.
The rain, accompanied with thunderstorms, lasted for more than two hours, confining many residents to their apartments early in the day, until it later subsided.
The flooding of the roads compelled road users to drive against traffic in some areas as people rushed to beat the7a.m. restriction of movement time.
At the Berger end of Lagos-Ibadan Expressway, many motorists trying to get out of Lagos, apart from contending with the rain, were caught up in  the restriction of movement time which took off at 7.ooa.m, causing a heavy gridlock.
In Badagry, only few voters were at some polling units where security personnel, electoral officers and materials were on ground by 8a.m..
At Polling Units 007, 008 and 009 in Ward A, Badagry Local Government, voters were seen by 8 a.m, while at Polling Unit 8 in Ward B, few voters got accredited and began voting by8.25a.m. .
Only two voters were at Polling Unit 007 in Ward D at8.30am.
Mrs Verona Chike, the Polling Officer in the unit blamed the low turnout on the downpour.
However, in some areas of Ikotun/ Igando Local Council Development Area, electoral officers and materials had yet to arrive as at 9.30a.m, with only agents of political parties at some poling units visited by then.
In Ward B, Unit 005, on Apapa Road, in Lagos Mainland Local Government Area, electoral officers arrived at 9.25 a.m. shortly after the rain stopped.
In Alimosho Local Government,  NAN correspondent reports that the premises of the Alimosho Local Government Secretariat was a beehive of activities as several commercial buses were still being loaded with electoral materials and officials at 9:30 am.
NAN observed that vehicles carrying the materials escorted by security operatives began filing out of the LG compound which doubles as the LASIEC secretariat at 9:45 am.
Mr Bakare Olagoke, the Electoral Officer of the Alimosho Local Government branch of the Lagos State Independent Electoral Commission (LASIEC) told NAN that the rain delayed the process.
"We are leaving now. It is heavy rain and only God saved us that the communication mast did not fall on our office or anyone because the rain was too heavy," he said.
Lagos residents are at the polls to elect chairmen and councillors in the 20 Local Government Areas and 37 Local Council Development Areas of the state.
(NAN)