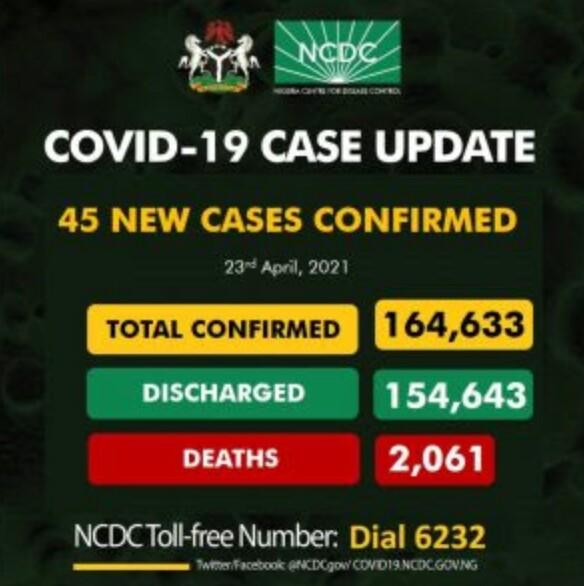 The Nigeria Centre for Disease Control (NCDC) has discharged additional 65 people after testing negative to the COVID-19 virus following treatment in the country.
The NCDC disclosed this on its official Twitter handle on Friday.
It stated that the nation's total recoveries had increased to 154,643, in the last 24 hours.
The public health agency noted that the country recorded no deaths from COVID-19 on Friday, making it the 11th consecutive day that nobody died from the virus.
it also disclosed that the country recorded 45 new infections on Friday, from seven states and the Federal Capital Territory (FCT), pushing the caseload to 164,633 in the country.
The agency said the new figure, which was lower than the 100 recorded on April 22, raised the total number of infections in the country to 164,633.
It said that Lagos state had the highest figure of new cases on Friday, followed by Rivers and Delta.
"The 45 new cases were reported from Lagos-26, Rivers-10, Delta-3, Kano-2, Akwa Ibom-1, FCT-1, Kaduna-1 and Nasarawa-1," it stated.
The agency noted that since the pandemic outbreak in Nigeria on February 2020, the country had carried out over 1.8 million tests.
READ ALSO: Reps to investigate alleged illicit trade in human organs
It added that the nation's active case stood at 9,990.
The public health agency noted that a multi-sectoral National Emergency Operations Centre (EOC), activated at Level 3, had continued to coordinate the national response activities in the country.
Meanwhile, the country has vaccinated over a million people barely two months after the country received four million doses of the Oxford-AstraZeneca vaccines.
The vaccine was from COVAX, a UN-backed effort that promises access to free vaccines for up to 20 per cent of participating countries' population.
"The current phase of vaccination covers health workers and other frontline workers although Nigerians from other groups are also getting vaccinated.