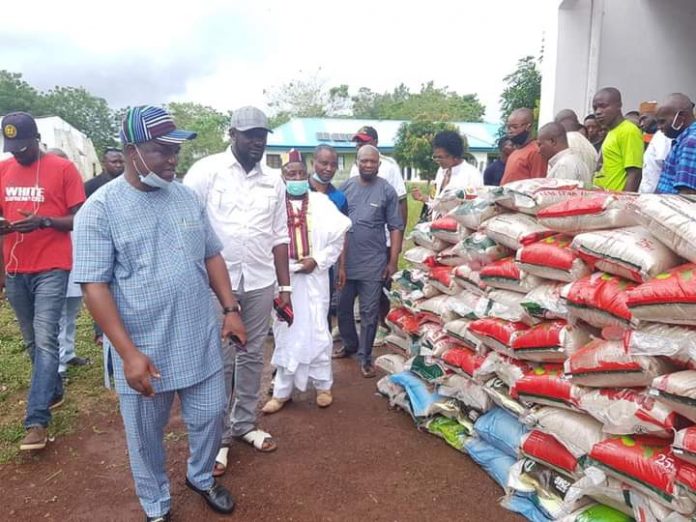 Commissioner for Housing and Urban Development in Benue State, Mr. Ekpe Ogbu has donated various food and non-food items to the people of Ado Local Government Area to cushion the effects of the Coronavirus pandemic.
The items which include bags of rice, cartons of indomie noodles, 12 pieces of infrared thermometers, Blood Pressure testing kits, packs of hand sanitizers, cartons of liquid soap, bags of facemasks and various hand washing buckets were shared across the 10 Council wards.
Presenting the items at the Council Secretariat in Igumale, Mr. Ogbu explained that the donation was his goodwill to alleviate the plight his people who were passing through hardship due to the COVID-19 pandemic.
The Commissioner said it was through serving under Governor Samuel Ortom that aided him to provide the items to complement the Governor's efforts to touch lives of his people.
He urged Ado people to observe Nigeria Centre for Disease Control (NCDC's), safety protocols and commended efforts of the Council Chairman in preventing the spread of the virus.
In their separate remarks, Special Adviser to the Governor on Industries, Jane Edeh, member of the State Assembly for Ado, Agnes Uloko represented by Councillor for Ukwonyo ward, Emmanuel Udah and former Assembly Member for Ado constituency, Anthony Ogbu sued for unity of the people of the area.
READ ALSO: Proposed NLC Strike: Rivers Govt Reacts To Wabba's Claims
They appreciated Mr. Ogbu for feeling the pulse of his people at a critical time like this and urged other sons and daughters of the area to join him in reaching out to their kits and kin.
On his part, Council Chairman of Ado Local Government, Mr. James Oche lamented that certain politicians of Ado extraction have abandoned their people after election and may only be resurfacing during another round of elections.
He called on them to emulate the kind gesture of the Commissioner, expressing his readiness to work with anyone ready to move Ado to another level of development.
Also speaking, the Ad'Ado, Chief Joseph Onazi represented by the Third Class Chief For Ado Zone A, Chief Julius Iguve lauded Mr. Ogbu for remembering his people and prayed God to continue to protect and provide for him to do more.