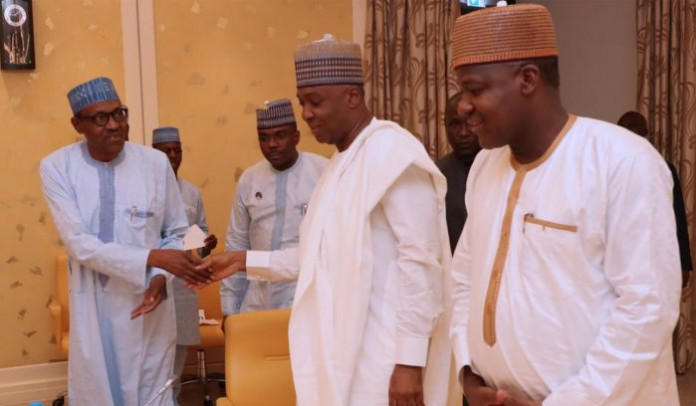 President Muhammadu Buhari, on Thursday, met with principal officers of the National Assembly over some key issues bordering on security, economy and the 2018 budget among other things.
The essence of the meeting, it was gathered, was to ensure a good working relationship between the Executive and Legislative arms of government.
Senate President Bukola Saraki and Speaker of the House of Representatives, Yakubu Dogara, led the National Assembly team to the meeting which was held at the Presidential Villa, Abuja.
Speaking with State House correspondents shortly after the meeting, Secretary to the Government of the Federation, Boss Mustapha, said moves were made to fast track the passage of the budget.
According to him, it was in that light that the president ordered ministries, agencies and departments which had not defended their budget proposal before the National Assembly to urgently do that.
His words:  "Mr. President has given instructions that all ministries and parastatals should ensure that they appear before the National Assembly to defend their submissions so that we can get this out of the way.
"This is a very dynamic year, there are preparations for elections and we are having quite a number of security challenges.
"And so if we do not appropriate, where will the money come from to be able to prosecute some of the assignments the Federal Government has in the appropriation of 2018.
"So this is a very good meeting; we intend to build on it. It is a confidence building mechanism and it is an interface that would definitely get a new dimension of the governance of this country for the betterment of the people of Nigeria."
Mustrapha also spoke on the bills passed by the National Assembly but not approved by the president.
READ ALSO: Why we'll no longer address Fayemi as 'Honourable Minister' –Reps
He said it was not out of other for the president to refuse to approve a bill if he had a cogent reason for doing that.
"The President has overall picture of how to approach matters in this country when it involves issues of legislation.
"When he holds back his assent, he normally advances reasons why he did not do it and it should be looked at from the context of the reasons that he has adduced,'' he said.
The Senate President Bukola Saraki also spoke on the meeting with the president.
According to him, "it was a very good meeting and it gave us the opportunity to share our own views about the areas we needed to so that we will be well informed on them."
He said with the success of the meeting, there was hope that work on the budget would be hastened.
He said, "We are hoping that things would speed up now and that they will come and submit the details."
He however told reporters that the issue of bills not passed by the president did not come up during the meeting.