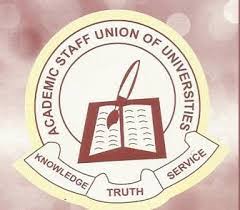 The Academic Staff Union of Universities, ASUU, of the Federal University of Agriculture, Makurdi, FUAM, has rejected the enrolment of its members on the federal government's Integrated Payroll and Personnel Information System, IPPIS.
ASUU's chairman at the University, Dr. Simon Ejembi stated this in a chat with newsmen at the University on the directive from the office of the Accountant General of the Federation.
According to a circular from the Office of the Accountant General of the Federation, the IPPIS enrollment was to begin on Monday, November 25, across federal universities in the country, but Ejembi said ASUU-FUAM was in firm support of it's national body, insisting that the academic body has no faction any where.
"ASUU does not have a faction. ASUU is ASUU. It has only one chapter. You are either a member of ASUU or you are not. And as at today, there is no member of ASUU that has come out to say I'm not a part of it, I have not heard that. But if you are talking about things like CONUA, CONUA is not ASUU they are on their own."
The ASUU chairman noted that the mandate of IPPIS contravenes the laws establishing universities and it's autonomy adding that "ASUU as a union has already objected to that and we are not any different on this campus. We are part and parcel of ASUU and anywhere the union stands at any point in time, that is where all of us stand.
"Part of the agreement we have with federal government is that, based on the Miscellaneous act, the autonomy act, circulars by other establishments like the accountant general of the federation is not binding on federal Universities. We have our councils, we have the governing councils which is empowered by law to administer the University system in terms of remuneration, staff recruitment, and in every facet of the University, even discipline."
He kicked against attempts to centralize the payroll of lecturers insisting that IPPIS will fuel corruption in Abuja.
READ ALSO: IPPIS A Scam, Threat To National Security – ASUU
"What ASUU is saying fundamentally is about the fact that the action of putting the federal universities on payroll that is central thereby centralizing it, is breaching that law. It is taking that responsibility off council and council is still here. So it is our expectation that whatever FG wants to do, it can go ahead and do it through their councils.
"But if they are making it central, it means they are taking the powers that established each university off them, and on the alternative, since we are the arch heads, we have the capacity to develop for them an alternative platform that will take into consideration the various statuses or statutes of the universities, because every university is established by its laws, it has its own mission and mandate .
"Even in Abuja you can check what is happening there. The spirit is to fight corruption, and all of us agree to fight corruption, but what the federal government is about doing will encourage corruption even in Abuja.
"That is what we are saying and we have been able to give them the analysis and how it can lead to corruption in Abuja there," Ejembi added.
He described the directive by the Accountant General as draconian and against democratic principles, but explained that they were ready to give the federal government an alternative.
The ASUU Chairman maintained that they are not holding brief for any vice chancellor with corrupt practices, that the peculiarities must be addressed.
"See, every university has a culture of sabbatical, adjunct, culture of visiting and we also have an agreement with federal government that have also empowered every lecturer to retire at 70 years. These are the basic peculiarities. They have to be addressed," he said.