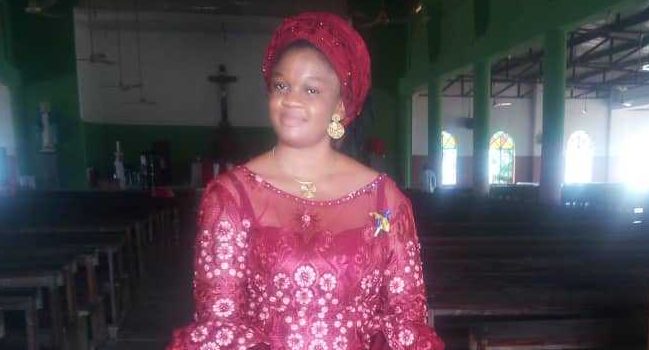 There is anxiety in Gboko Local Government Area of Benue state as unknown gunmen kidnapped an Igbo woman from her husband's shop and drove away with her in a vehicle with government official numbers.
An eyewitness Mr. Jiji Jack, who resides in Gboko, told our correspondent that the gunmen numbering four, on Monday, kidnapped Mrs. Blessing Arinze, wife of Motorcycle dealer, Mr. Chukwudi Arinze.
According to him, the victim, Mrs. Arinze, was abducted from her husband's shop situated at No.52 J.S Tarka Way, Gboko.
He said the heavily armed kidnappers had stormed the shop in a commando style, demanding to see the victim's husband, Mr. Chukwudi Arinze.
It was gathered that when Mr. Arinze discovered that he was the target, he escaped. The kidnappers, therefore, seized their new victim (the wife) after collecting all her phones and other personal items before driving her away in their vehicle.
Narrating the incident, the victim's husband said the abductors came with a tinted ash blue coloured Lexus 330 car with Government registration number 20 F 01 BN at about 12:20 noon.
"When I saw them, I escaped through sanitary line following the previous information that the kidnappers are using Lexus car to go after their targeted victims in Gboko."
He also said the kidnappers gave themselves out they grabbed a customer thinking he was the one. "The abductors first mistakenly grabbed our customer until one of them informed others that it was a misplaced identity. From there, they let go of the man. It was at this point that I found my square root."
According to the source, the abductors, while trying to escape with their victim, followed Gondo Aluor way, shooting sporadically in the air to scare intending pursuers.
At the Benue state police command in Makurdi, the Police Public Relation Officer, Sewuese Catherine Anene said both the command was not aware of the incident.
At the time of filing this report, she neither the DPO nor the Command had received the report of the incident.
The caretaker chairman, Gboko local government who confirmed the story, told newsmen that he had already briefed police SARS who were after the abductors.
He stated that government would ensure that criminals no longer found Gboko accommodating under his reign as caretaker chairman.
Some Igbo traders in Gboko who spoke to our correspondent on the condition of anonymity regretted the live of Igbos in Benue was been threatened by kidnappers.
According to them, kidnappers were monitoring and kidnapping Igbo traders on weekly basis in the state especially, Gboko.
They called on the state government and security agencies to beef up security in the state and especially in Gboko to safeguard lives and properties.