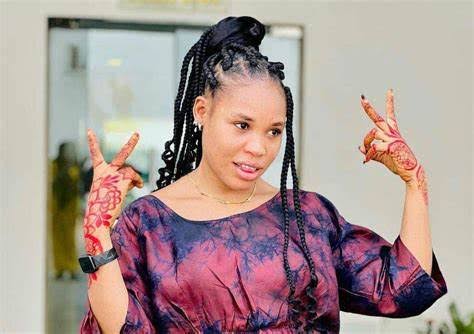 An Upper Shari'a Court sitting in Kano, on Thursday, ordered that a popular TikTok skit maker, Murja Kunya, 24, be remanded in a correctional centre over alleged defamation.
The defendant, who lives in Hotoro Tishama Quarters Kano, is charged with three counts of defamation of character, injurious falsehood and criminal intimidation.
The Prosecution Counsel, Mr. Lamido Sorondinki, told the court that the defendant committed the offence on Jan.29, on her WhatsApp Status.
He alleged that on the same date the defendant defamed the character of one Aisha Najamu and Ashiru Mai-Wushirya, on her WhatsApp Status and shared it to the public.
The prosecutor alleged that the defendant made an injurious statement against the complaints and threatened them in Hausa language.
The defendant, however, pleaded not guilty.
According to the prosecutor, the offence contravenes the provisions of sections 391 and 393 of Kano State Shari'a Law.
The Defence Counsel, Mr. Yasir Umar-Musa, made a bail application pursuant to sections 35 and 36 of the constitution of Federal Republic of Nigeria, 1999 as amended,168 and 172 of Administration of Criminal Justice Law 2019 Kano.
READ ALSO: 2023 Presidency: Kwankwaso Neither Met Nor Discussed With Atiku — NNPP
The Presiding Judge, Malam Abdullahi Halliru, ordered the remand of the defendant in a Correctional Center and adjourned the matter until Feb.16, for hearing.
Kunya was also arraigned before the Upper Shari'a Court over alleged breach of public peace and indecent act.
The prosecutor, Sorondinki told the court that on Aug.30, 2022, a direct complaint was lodged by Barr. Muhd Ali Hamza and seven others at Upper Sharia Court Bichi, Kano, to direct Kano Commissioner of Police to investigate the defendant alongside other TikTokers.
He alleged that between 2021 and 2022 the defendant conspired with Mr 442, Safara'u, Dan Maraya, Amude Booth, Kawu Dan Sarki, Ado Gwanja, Ummi Shakira, Samha Inuwa and Babiana, all now at large.
"The defendants mimed a video song that violates moral, law, and custom of the people of the state.
"The video was released by Ado Gwanja and Kawu Dan Sarki(now at large) via Tiktok, Instagram."
The defendant, denied committing the offence.
The defendant was charged with obscene of indecent act, continuance of nuisance and inciting breach of public peace contrary to section 355, 353 and 275 of Kano State Shari'a Law.
Malam Abdullahi Halliru ordered the remand of the defendant in a Correctional Center and adjourned the matter until Feb.16, for hearing.(NAN)