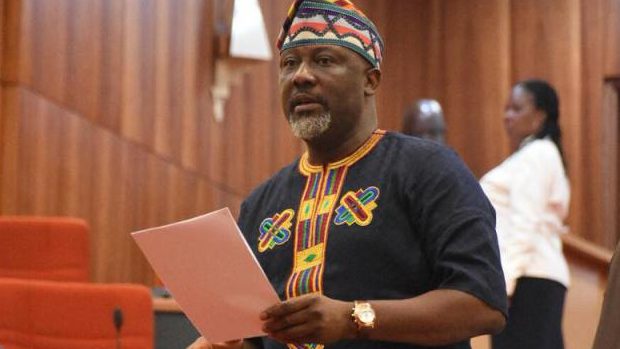 Dino Melaye, the controversial Senator from Kogi State has set the social media agog with a post referring to the newly elected Deputy Senate President, Senator Ovie Omo-Agege, as a "Mace Thief."
Melaye shares a funny photo of three principal officers of the Senate, President of the Senate, Ahmed Lawan, Omo-Agege, and the Sergeant-at-Arms of the Senate with a funny, not-too-difficult to decipher description that matches his claim.
The first quote says, " Oh boy, hold that mace with two hands ooo. I no trust this Omo Agege. Na tief ," the Senate President appears to tell the Sergeant-at-Arms.
In his response, the Sergeant-at-Arms says, "Haha…Oga no worry. I don hold am well."
Melaye in his characteristic manner captions the picture thus: "When you work with a mace thief."
Recall that the Delta Central Senator, Omo-Agege, was alleged to have led thugs to the Senate chamber to "steal" the mace in 2018 during a misunderstanding with his colleagues.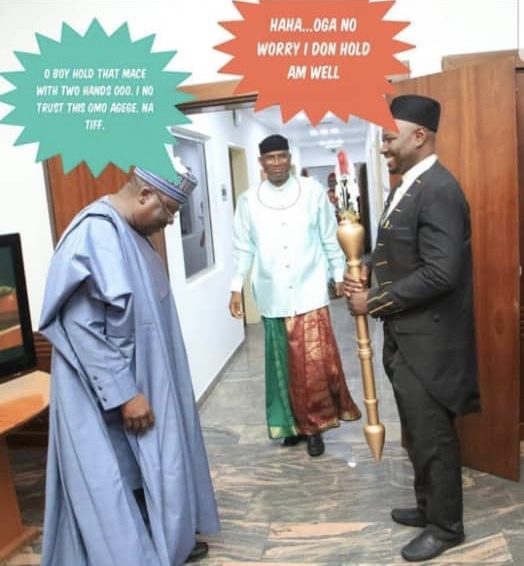 According to the police, the mace was later found at the Abuja City Gate a day after it was forcefully taken away.
On Tuesday, June 11, 2019, Omo-Agege defeated the immediate past Deputy Senate President, Ike Ekweremadu, to clinch the seat of the Deputy Senate President.