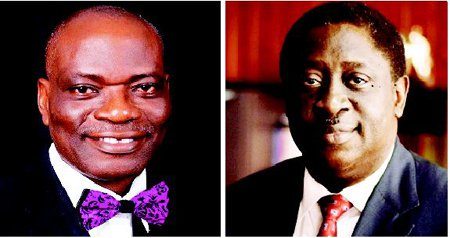 The House of Representatives has decided to wade into the crisis rocking the University of Lagos, UNILAG, Akoka.
It has therefore resolved to investigate the alleged breach of procurement law by the management.
Recall that the university had been in the news in the recent past following the issuance of queries to the Vice-Chancellor and some management workers and lecturers at the university by the institution's Registrar, Oladejo Azeez.
Azeez, who serves as secretary to the institution's governing council, reportedly issued the queries on the orders of the university's Pro-Chancellor, Dr Wale Babalakin.
The registrar was in turn queried by the VC after he issued a statement against the Academic Staff Union of Universities, UNILAG chapter, for criticising the council chairman for the queries.
The decision by the House of Reps members to get involved in the crisis followed the adoption of a motion sponsored by the Deputy Chairman, House Committee on Media and Public Affairs, Mr. Gaza Gbefwi representing Karu/Keffi/Kokona Federal Constituency, Nasarawa State.
Moving the motion titled, 'Need for urgent investigation into allegations of gross statutory breaches, including violation of the Public Procurement Act 2007 by the management and governing council of the University of Lagos,' Gbefwi said, "The House notes that contrary to its statutory mandate and powers, past and present management of the university had operated the institution in a manner that breaches extant laws, rules and regulations applicable to public service.
READ ALSO: SPECIAL INTERVIEW: Why I document Nigeria through photographs, films, books — Fiofori
"Recent activities in the university indicate that these abuses have reached unprecedented levels, including consistent, brazen and gross mismanagement of the university's finances, contract awards without due process, payments without valid contracts/approvals, contract over payment, contract splitting, spending above the budgetary provisions and non-compliance with inter-control requirements.
"Numerous senior officials of the past and current administration are involved in this abuse, including former and current vice-chancellors, former and current deputy vice-chancellors, former registrar, former and current bursars, current head of procurement, current dean of student affairs, current director of academic planning and current director of foundation programme."
He further pointed out that there were allegations against the governing council of the university, in particular, the Chairman, Babalakin, who was accused of championing the investigation of the past and current management of the university for personal reasons, including his desire to chair the tenders board of the university, contrary to Section 22(2) of the Public Procurement Act 2007.
Gbefwi said that contrary to the provisions of the Public Procurement Act 2007 and extant guidelines and regulations from the Bureau of Public Procurement, the former and current management of UNILAG had "grossly abused the public procurement system, resulting in huge losses to the Federal Government of Nigeria."
The House resolved to mandate the Joint Committee on Public Procurement to "investigate the alleged violations of the Public Procurement Act and abuses of other public service rules and regulations, and report back to the House within five working days for further legislative action."