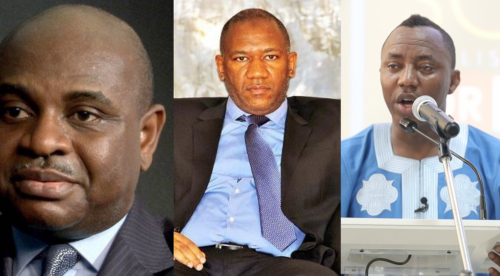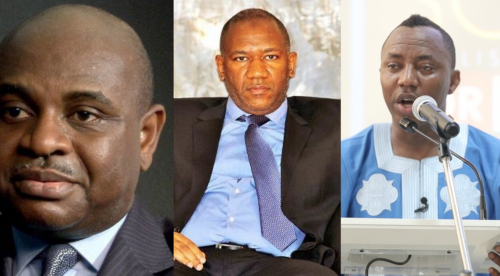 Three presidential aspirants have spoken on why they want President Muhammadu Buhari's job and how they plan to remove him from office in February 2019.
The three of them – Dr. Kingsley Moghalu; Mr. Omoyele Sowore; and Dr. Datti Baba-Ahmed – spoke in the current edition of The Interview, in their most detailed interviews yet.
Moghalu, a former deputy governor of the Central Bank of Nigeria, said Nigerians would remember President Muhammadu Buhari, "for his record of failed performance on his campaign promises on security, the economy and corruption."
He said his Presidency would reposition Nigeria for economic prosperity, "by creating an enabling environment for a productive, innovation-led economy, with a better approach to taxation that will reduce dependence oil revenues."
Sowore, the publisher of Sahara Reporters, said, "Buhari is done."
He laid out a three-pronged policy covering security, power and infrastructure, which he said would lift the country from its present state.
He promised to create at least 250,000 new jobs in the agricultural sector, with commercial ranching operations that would cover 20 million cows.
READ ALSO: Recall: Melaye thanks constituents for `rescuing him'
Baba-Ahmed, the Pro-chancellor of Baze Unversity, Abuja, said, "Buhari's second term will destroy Nigeria and unsettle the rest of Africa."
He promised that his government would stabilise the naira by tackling the current high risk factors, reduce interest rates and "flood the capital market with investible funds."
Two of the aspirants, Moghalu and Sowore, have not yet announced their party platforms, while Baba-Ahmed was a member of the House of Representatives and a senator on the platform of the Peoples Democratic Party (PDP).
The Managing Director/Editor-In-Chief of The Interview, Mr. Azu Ishiekwene, described the edition as "the most comprehensive window yet on aspirants who could be the biggest disruptors in the 2019 presidential race."
The interviews covered campaign funding, the incumbency factor, and the antecedents of the aspirants.
Also in the edition, a faculty member of the Enterprise Development Centre of the Lagos Business School, Helen Emore, spoke extensively on the problems of SMEs in Nigeria; while Interview Confidential, provides the inside story of the travails of Senator Dino Melaye.