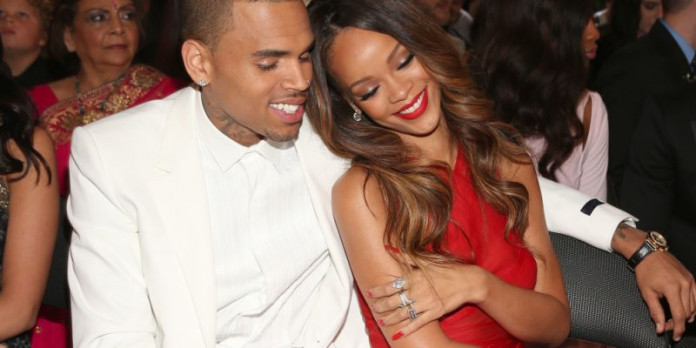 Chris Brown details the night he was arrested for physically assaulting then-girlfriend Rihanna in 2009 for his new documentary.
Brown, 28, reveals in Chris Brown: Welcome To My Life that he was 15 when he met the 29-year-old Barbadian singer, then age 16, at a 2004 show in New York City. The two quickly developed a connection and fell in love, but their relationship took a turn after Brown told Rihanna that he had slept with someone else prior to their relationship — something he had previously denied to the "We Found Love" singer.
"My trust totally was lost with her," Brown said. "She hated me after that. I tried everything, she didn't care. She just didn't trust me after that. From there, it just went downhill because there were too many verbal fights, physical fights as well. Mutual sides."
"We would fight each other. She would hit me, I would hit her and it never was OK," he continued.
The "Look At Me Now" singer said they both realized their fighting was causing harm on both sides, but the pair struggled to contain their fights to heated discussions.
"There was always a point where we'd talk about it like, 'What the f— are we doing?" he said. "Like, 'I don't like you slapping me.' If I go on stage I got a scratch on my face and I gotta explain it like, 'Oh, no I fell.' If you got a scar or a bruise you gotta put makeup on. I'm not ever trying to put my hands on any female."
Read also: Rihanna smolders in sexy, beaded bikini and feathers at Crop Over Festival in Barbados
He added, "I felt like a f—ing monster."
Their relationship came to a crashing halt after they attended Clive Davis' Grammy event in February 2009. Brown said events came to a head when the unidentified woman he previously had sexual relations with approached the couple at the event. He insisted he didn't know the woman would be in attendance.
"The ceremony's about to start, she's just crying," Brown recalled about the event with Rihanna. "She got over it. She started drinking a little bit, we both was drinking a little bit. We were both drinking a little bit, laughing, joking. And then we left."
That night, Rihanna discovered a text message from the woman on Brown's phone, which led her to believe he knew the other woman would be there.
"She starts going off, she throws the phone," he said. "'I hate you.' Starts hitting me… She hits me a couple of more times and it doesn't go from translation to 'let's sit down, I'm telling you the truth.' It goes to, 'Now, I'm going to be mean, be evil.'"
"I remember she tried to kick me, but then I really hit her, with a closed fist, I punched her. I busted her lip," he recalled. "When I saw it, I was in shock. I was like, 'F—, why the hell did I hit her?'"
"From there she just spit in my face," Brown continued. "Spit blood in my face and it enraged me even more."
The fight continued until Brown pulled the car over, which caused Rihanna to take the keys out of the car.
"She takes the keys out of the car and fakes it like she throws them out of the window," Brown said. "I get out of the car and I'm looking for the keys and somebody yelled and she yells out her door, 'Help, he's trying to kill me.'"
Looking back at that time and the< photo of Rihanna's bruised face, Brown says "that's not me."
"I look back at that picture and I'm like that's not me, bro, that's not me. I hate it to this day. That's going to haunt me forever."
Source: People